August 2011 - The Toy Collector Market is Go!
The Market Update
Heads up, everybody! The Toy Collector market is now fully live and accessible to all site users!
After spending a while in Beta, working on last minute glitch-type things and getting the features fine-tuned, we're now ready to take the wraps off fully. As of now, any Toy Collector member can list an item for sale or buy an item, and we hope you all enjoy doing so! All visitors to the site will now be able to browse, although you'll need to be a member to buy or sell.
We currently have over 400 Corgi and Dinky items listed for sale, alongside a smattering of other diecast, some accessories and other fun things, and there are more coming every day. As we've said, we're initially focusing on Corgi and Dinky Toys, but you can buy or sell any collectable toy items on there that you'd care to list. Here are a few feature overviews...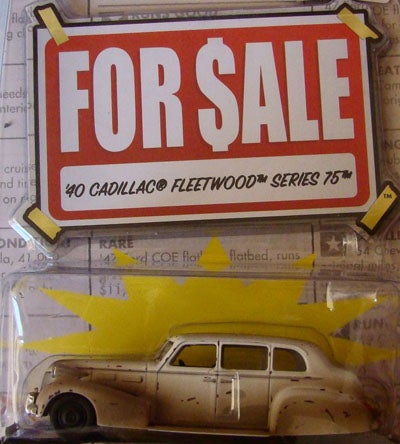 Selling
Selling is quick and easy - you just browse to the item in ToyPedia and click the new Sell This Item button. This creates a listing pre-populated with all the info we have in ToyPedia about the item (years produced, reference number, etc). Of course, all of this is customisable and you can add your own images (up to ten of them, all free). Then you just save the listing and that's it! Your item's up for sale.
Of course, not everything's listed in ToyPedia just yet, but if you have a specific item to sell that's not in there yet, that's fine - since the Sell This Item button appears on every page in ToyPedia, you can use the Maker's page or the Model Range page if those are there. So, for example, if you wanted to list a Corgi car that wasn't listed, you could just click Sell This Item on the main Corgi page to create a listing, then fill in as much detail as you like manually. And if the maker's not listed yet, then you can just use our specially-created Anything Not Listed Elswehere category!
Market Settings
You can use your Market Settings (which you'll find in your dashboard) to set any standard stuff you want to appear on all your listings, like your shipping policies, plus your default listing currency and postage prices (all of which can then be altered for individual listings on a case-by-case basis as you wish).


Formats & Fees
You can list auctions and Buy-It-Nows, and we undercut eBay on fees. There are never any listing fees and for Buy-It-Now items, there's an 8% seller fee while auction items have a 8% seller fee and an 8% buyer premium as in a real-world auction. Payment is Amazon-style via the simple-to-use Moneybookers service and - unlike PayPal - there aren't any payment fees for buyers or sellers. We cover those out of our percentage.
This setup also means fees are paid when payment is made, so you also don't have to worry about getting an invoice at the end of the month. Or about having to reclaim fees on anything that sold but didn't get paid for because fees are only charged once the item actually IS paid for. Auctions that aren't paid for can be relisted after three days, and Buy-It-Now items that go unpaid just relist automatically.


Paying & Getting Paid
The market comes with a fully-integrated, easy-to-use payment system, courtesy of Moneybookers. Moneybookers is now used by over 19 million web users, making it the second-most-used payment system on the web. This is the only payment method you can use on the TC Market - you can't use PayPal, cash, money orders or anything else. This is so that both buyer and seller have full protection via the site's inbuilt system and we can keep fees low by avoiding having to bill for them separately.
As long as you have a valid credit or debit card, you won't need a Moneybookers account to pay for an item, you can just use your card. If you don't have a credit or debit card, you will need to open a Moneybookers account prior to buying an item, and can then choose from one of the many other options Moneybookers offers for transferring money into your account, like bank transfers. The options vary depending on where you are in the world - just click here for a list of options for your territory.
You will need an account to receive payment if you sell something, but don't worry if you're a seller - when you receive your first payment, you'll get an email with a link that takes you through the (fast and free) process of setting up your account. Once you have done that, you can transfer the money into your bank account or keep it in your Moneybookers account to buy more stuff!


25p Auctions!
To mark the launch of the TC Market, our member Indrindri is posting a whole lot of auctions starting at just £0.25 each!
These items are all very nice examples of a wide range of Corgi Toys and some Dinky Toys, and they'll all be on auction starting at just 25P EACH! You can find the first listings here, and there's more to come, so swoop in and you might just grab a bargain!


NAMAC Become First Market Partner
A big welcome to the first collectors' club to partner up with us on the Market - NAMAC, the Dutch General Miniature Car Club.
NAMAC President Otto Snel and his 5,300-strong membership like the idea of the Toy Collector Market so much, they've agreed to endorse it, and will be mailing out to all their members about it shortly. They're also taking advantage of Toy Collector's programme for clubs and similar organisations, which pays the club a commission every time a member trades on the site (at no cost to buyer or seller, of course!) If you've got a similar organisation and would like to talk about a similar arrangement, just drop LaToya a PM or an email.


Login Issues, Fixes & Faster Servers
We've been aware that some users are experiencing issues with logging in (especially those of you who visit the site on a regular basis) and some of you have had problems with posting in the forums. When we made the Market live, we did an overhaul of the site, and hopefully the login issues will now be gone. So if you were experiencing any, please come on back and try logging in again as you should now be able to do so with no problems. If you find you do still have issues, please let me know by dropping me an email.
Also, if you newly joined the site and tried to make any changes to ToyPedia, you may have encountered a message informing you that you were banned from the Wiki. This was due to a small glitch and has now been corrected, so all users can edit or add to ToyPedia pages whenever they like!
Our other piece of good news is that we're shortly moving to new, faster servers. If you visited the site at either midnight or 7am UK time, you'll have found that it's been down for up to 20 minutes. This is because on the current servers, routine maintenance was required at these times. In a few weeks, we'll be switching to new servers, which will decrease loading times and eliminate this downtime, so the site will be more accessible than ever!


Member of the Month
I wanted to make this newsletter all about the Market launch, but I couldn't resist squeezing in a Member of the Month. This time round, it's Karl.
A highly active forum poster since he joined the site, Karl is also a member of the Corgi Toys Group. On the forums, Karl is a renaissance man, posting about diecast vehicles and plenty of other stuff too, like Elastolin castles. But we particularly like how he's always there helping others with advice or answers to their questions - after all, TC is a community which partly exists so newcomers can find information about their stuff (and the more-expert can fill in gaps in their knowledge!) And Karl's amazing research skills have often yielded answers to many of the knottiest questions!
So thanks to Karl, for being such a standard-bearer for TC's values, we're happy he's here!