GreenLight Collectibles releases 1:64 Hot Pursuit 8 September 2011
Serve and protect your Hot Pursuit Collection
Indianapolis, IN (August 24, 2011) Clearly a fan favorite, Hot Pursuit; GreenLight's offering of past and present law enforcement vehicles, has been flying off the shelves since its first release in Summer 2009.  Retailers reorder in determination to have the supply when demand comes 'a knocking and the collectors are wild with excitement as the need to complete a collection springs them off their feet and into the closest GreenLight dealer.  If this sounds familiar of your own actions when Hot Pursuit announces a new release, well then join the rest of us and get in line…quickly!
"Collectible police cars, because of their geographical marking nature" explains Lead Designer, Joel Dale "they can communicate on a personal level, and the story that they tell is different to each collector that has them in their collection."  Whether you are passionate for the series because you are a law enforcement enthusiast or operate on a more specific interest, Hot Pursuit pulls the attention of every collector.  The fact that they are high quality, authentically replicated and scaled to perfection is a mighty nice added bonus.
Series 8 includes six cars from a wide range of departments and offices, small counties, townships, capitals and state highway.  Rounding off Series 8 is the new 2010 Dodge Challenger SRT8 in Dodge Law Enforcement livery.
(42650) 1:64 Hot Pursuit Series 8 Assortment (5,5000 of Each):
1988 Ford Mustang New York State Police
2008 Dodge Charger K9 Unit East Hempfield Township, PA Police
2008 Ford Crown Victoria Fargo, North Dakota Police
2008 Ford Crown Victoria Cleveland, Ohio Police
2010 Chevy Camaro Haltom, Texas Police
2010 Dodge Challenger SRT8 "Dodge Law Enforcement"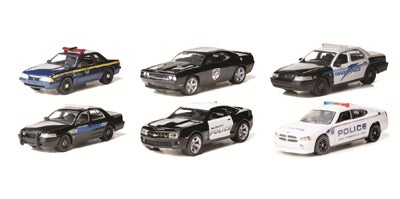 These 1:64 die-cast replicas feature detailed engines, real rubber tires, metal body and chassis, detailed graphics, custom license plates and are officially licensed by the respective auto manufacturers. The release is scheduled for September 2011 and will be available through official GreenLight official hobby shops and wholesale dealers, as well as at Toys 'R' Us and Meijer. For more information about GreenLight's up-coming releases or the other quality collectibles from GreenLight, visit http://www.greenlightcollectibles.com.