Mechanical bank goes from World's Fair to world record at RSL's million-dollar auction
TIMONIUM, Md. – Clad in age-defying cast iron, antique mechanical banks made another bulletproof run across the auction block June 4th at RSL's 499-lot sale featuring the John Jirkofsky collection. Partner Ray Haradin – the "R" in RSL, along with Steven and Leon Weiss – said the sale held at Opfer Auctions' gallery attracted around 160 online bidders and another 76 bidders in the gallery and on the phones. Along the way to its $1,073,100 total, the sale set a number of records for prices paid on individual banks.
"Everyone waited with anticipation for the final lot, which was the top lot of the sale – a pristine, multicolored J. & E. Stevens mechanical bank commemorating the 1893 Chicago World's Fair," said Haradin. "Only about five of the color variation we offered are known to exist; 99% of those produced were painted gold with silver highlights." Estimated at $14,000-$18,000, the bank depicting Christopher Columbus sitting on a rock, with the Santa Maria at one side and an Indian chasing a buffalo on the other side, "discovered" its true market value at a record $45,325 (all prices inclusive of 22.5% buyer's premium).

A Western art enthusiast, the buyer of the World's Fair bank also lodged the winning bid on a very rare Indian Head bust-style mechanical bank, probably the best of three known examples. Against an estimate of $9,000-$12,000, the coveted money box sold for $19,600.
Circa-1880 Kyser & Rex Chimpanzee cast-iron mechanical bank, $24,500
"Mechanical bank buyers showed no fear. They jumped right in," said Haradin. "Even in the middle stretch of the sale, the more-common banks were bringing terrific money." Examples Haradin cited include: Butting Buffalo, $33,075; Chimpanzee, $24,500; Two Frogs, $15,925; Humpty Dumpty, $12,375; 'Spise a Mule bench version, $15,925 and jockey version, $8,270.
J. & E. Stevens Two Frogs cast-iron mechanical bank, $15,925

Haradin said that the bullish prices paid for banks that are not ordinarily hard to find could be directly related to condition. "To give you an example, the Toad on Stump bank, which previously was part of the Larry Feld collection, had been estimated at $3,500-$4,500. It was in particularly beautiful condition, which brought up the price to a record $11,025. Condition still leads the market."
A continued interest in German painted spelter banks was evident in the sale, with a circa-1920 Black Boy with Bouquet of Flowers achieving a record price of $9,190. Haradin foresees a long run ahead for this particular still-bank specialty. "Spelter banks were the subject of the main lecture at the still bank convention, and there's a book coming out on the subject. Those are always good signs."

Cast-iron American still banks had a successful day at auction, as well. A boxed example by Arcade replicating a Buick Yellow Cab with a flattop roof raced to a record-setting $7,320 against a $4,000-$6,000 estimate.

One of the most hotly contested lots was an unusual framed wind-up paper-litho Musical Cats bank estimated at $5,000-$7,500. Although German made, it had the appearance of an early American Ives mechanical toy. It was off to a roaring start with eight absentee bids in the auctioneer's book, and commanded a winning bid of $10,415.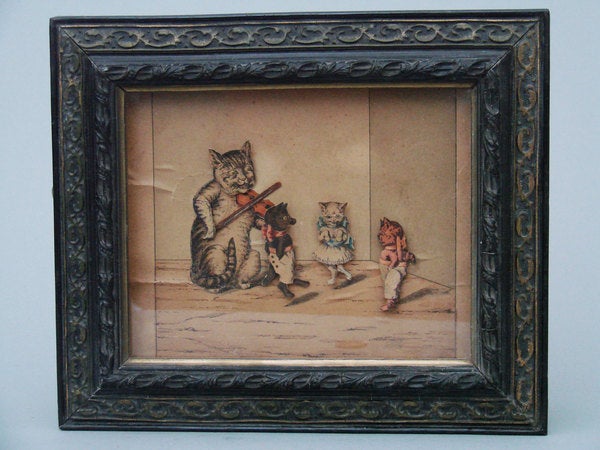 Circa-1887 German paper litho Musical Cats bank; when coin is inserted on right side, mama cat fiddles and kittens dance to music-box tune, $10,415

An array of cast-iron horse-drawn toys made a nice addition to the sale. A Hubley Spider Phaeton achieved $5,270; while a Pratt & Letchworth Fire Patrol turned up the heat at $3,675. Within the small grouping of automotive toys, a circa-1904 Bing rear-entry tonneau fared best, selling to an overseas buyer via the Internet for $15,926.

Haradin said he was able to draw an encouraging conclusion from the auction's turnout. "This sale saw the return of buyers who used to acquire banks for investment. We hadn't seen them for the last three or four sales. They took a little break and were back and participating in this sale," Haradin said.

RSL Auction Co. will conduct its next auction on Oct. 15, 2011 at Opfer Auctions' gallery in Timonium (suburban Baltimore), Maryland. The sale will feature a fine grouping of mechanical and still banks from multiple consignors. For additional information, call Ray Haradin at 412-343-8733, Leon Weiss at 917-991-7352, or Steven Weiss at 212-729-0011. E-mail This e-mail address is being protected from spambots. You need JavaScript enabled to view it or This e-mail address is being protected from spambots. You need JavaScript enabled to view it . Visit RSL Auction Co. online at www.rslauctions.com.