Every year we visit Le Mans for the 24 Hours. We meet the drivers, the teams and our collector friends. We obtain press passes for access to the pit lane and trackside throughout the race and come back with several thousand photos to help us in our efforts to get the models right. Whilst we need eyes in the back of our heads in the pit lane with cars constantly entering and leaving and are constantly alert not to get in the way or cause an incident, it is far more relaxed at track side. The access road that runs around the circuit for the marshals, their safety equipment and press photographers is protected from out of control cars by armco barriers, tyre-walls and very often, wide gravel traps. So safety is not usually a major concern in the forefront of our minds.

This year was different for us. In the bottom photo below you can pick out two of our photographers. Alex, who spends most of the year in our factory in China developing our models, is the one dressed in black with the blue vest, crouching behind the scooter and Manu who helps us with photographs, is in the red shirt, blue vest and carrying the big lens. Manu broke his wrist as he fell avoiding flying debris. Alex who should have been crushed by the shattered Audi, escaped miraculously when the car, just as it was about to go over the barrier, performed a vertical pirouette on its nose and then fell back on the trackside.
You can see all this in the spectacular crash sequence on the youtube link below (after the photos Of Allan, Tom Kristensen and Dindo Capello at our China factory last year and the picture of Allan waving). When you see it in slow motion you will understand why we, who could see the accident from the other side of the track, had our hearts in our mouths and were so relieved that our friends, including Allan were all alive. That Allan McNish could walk away from the shattered remnants of his Audi attests to his fitness and the huge advances in safety technology of recent years. We are grateful.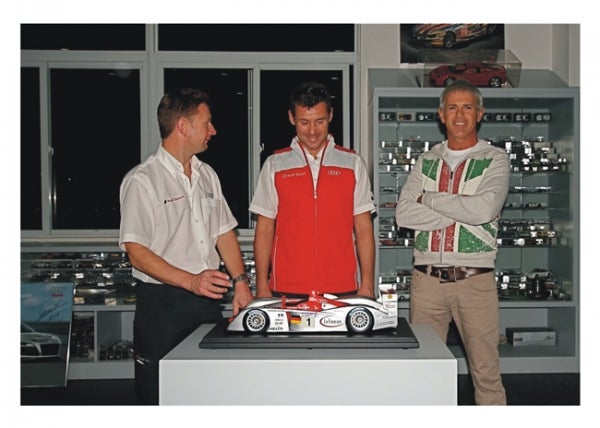 http://www.youtube.com/watch?v=t3yj4Vnmrzs&playnext=1&list=PLA81BEF46D55AF020

Tags: Vehicles, Slot Cars, Other Stuff
---