For the past 30 years, automotive manufacturers have tested their products in one of the most abusive settings in motor sports. Professional rallying has been popular since the early years of motoring but since the 1950's, it has become serious sport.
Since the early 1970's, the FIA World Rally Championship has provided a world-wide series of events leading to both driver and manufacturer titles. The following is a list of manufacturers and models that held the title for each year.iecast car manufacturers have seldom viewed professional rallying in the same light as other motor sports. Rallying has never had the popularity of Formula 1 or NASCAR. Finding examples of toy rally cars is challenging but not impossible.
Beginning with 1970, the Porsche 911 is an easy car to find in 1:64 scale. Of these examples, only Tomica produced a 911S rally version, #F17. The example shown is actually #F1 but there are no actual differences in the casting and the sport wheels look good. The 1971 and 1973 winner is a car that deserves more examples than the Playart #7211 and the Guisval #28 castings . The Alpine Renault A110 was at the end of it's competitive years when it won in 'the early '70's and Playart did a nice job with their model. The 1973 winner is also represented by Playart in the Lancia Fulvia, #. Playart is again the only company to offer the Fulvia in 1:64 scale.
1970 Tomica - Porsche 911S #F1
1971 and 1973 Playart - Renault Alpine A110 7211
1972 Playart - Lancia Fulvia

1974, 75 and 76 saw one of the most amazing rally cars ever take the manufacturer's title. The Lancia Stratos simple dominated the rally scene. With it's mid-engine, Ferrari-Dino V6 for power, the Stratos was dramatic is power and style. Several excellent competition Stratos models have been done. Luso of Portugal did the most aggressive version, complete with competition decals. Tomica did rally, racing and street versions of the Stratos with the racing example #F66 shown here. Playart also did a nice Stratos in stock form, Guisval offered a rally version #50 and Zee Toys did a credible example, #D46, still available through Red Box.
1974 Luso - Lancia Stratos
1975 Tomica - Lancia Stratos
1976 Playart - Lancia Stratos

The Fiat 131 Abarth became the car to beat in 1977, repeating in 1978 and 1980. Tomica (#F11), Matchbox and Zee Toys (#D94) all produced this car. The Tomica and Matchbox models are excellent and the Zee Toys version appears to owe much to the Matchbox casting.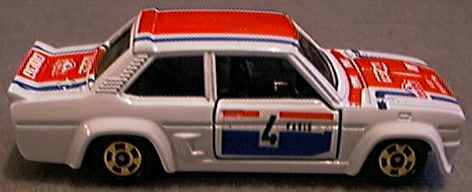 1977 Tomica - Fiat 131 Abarth Rally F11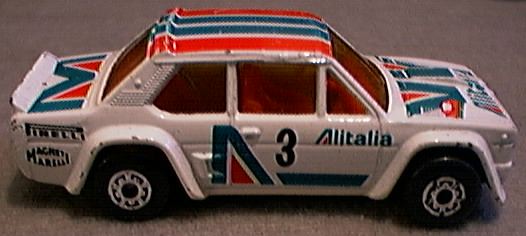 1978 Matchbox - Fiat 131 Abarth Rally

Ford's Escort RS2000 won the title in 1979 and only Matchbox offered this model, #9. Complete with rally stickers, the RS2000 is up to the best Matchbox standards. If an example of the 1981 winning Talbot Sunbeam Lotus exists, I do not know of it. Guisval did a Talbot Horizon rally #52 but this is not quite the same.
1979 Matchbox - Ford Escort RS2000 9
1980 Zee Toys - Fiat 131 Abarth Rally D94

The Audi Quattro took top honors in 1982 and 1984. The Quattro has been done in rally form by Matchbox, Majorette, Maisto, Yat Ming, Welly and Guisval. The Matchbox and Majorette models are offered in colors close to those actually used by rally teams. The Yat Ming and Welly castings are still available. For 1983, Lancia returned to the title with the 037 Rally model. Only Edocar of Holland offered an example of this car and it is quite nice. Unlike most Edocar models, the 037 Rally does not appear to be a Maisto casting.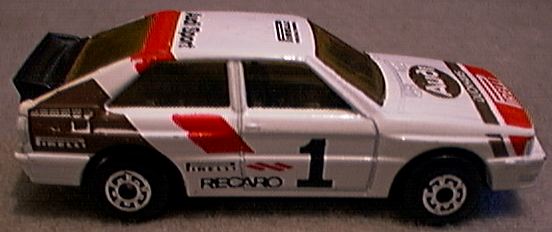 1982 Matchbox - Audi Quattro
1983 Edocar - Lancia 037 Rally 7
1984 Majorette - Audi Quattro 221

It is not hard to find examples of the 1985 and '86 winners. The Peugeot 205 Turbo 16 has been done by Matchbox and, a bit surprisingly, Hot Wheels. Both are excellent models with opening engine bays to show the power behind these mid-engine screamers. The next six years, 1987-92 are regrettably not represented as no example of Lancia's fearsome Delta Integrale can be found. It may be that Guisval did this car but I cannot be sure,
1985 Hot Wheels - Peugeot 205 Turbo 16
1986 Matchbox - Peugeot 205 Turbo 16

Guisval did do the next champion for 1993 and '94. The Toyota Celica Turbo 4WD is likely still available where Guisval can be found. It is very surprising to not see this car from Tomica as it is the first Japanese WRC champion. The 1995-1997 winner is also from Japan, the Suburu Impreza. Curiously, the only example comes from Metchy of Hungary and carries the colors of the MOL Rally Team. The casting is unique to Metchy who often re-package Matchbox or Siku models in new colors. Tomica has done the 1998 Mitsubishi Lancer IV rally car and it is up to the expected Tomica standards, Part of the current Tomica line, it is also offered in special rally colors. The 1999 winning Toyota Corolla also seems to be a no-show so far.
1993 and 1994 Guisval - Toyota Celica Turbo 4WD
1995, 1996 and 1997 Metchy - Subaru Impreza MOL Rally
1998 Tomica - Mitsubishi Evolution IV

While toy rally cars will always be a limited market, it is nice to see that most of the significant cars have been done. We can thank Playart, Guisval, Matchbox and Tomica for most of them.
YEAR ............ MANUFACTURER (Model)
197O .............. PORSCHE (911)
1971 ............... ALPINE - RENAULT (Alpine A110)
1972 ............... LANCIA (Fulvia)
1973 ............... ALPINE - RENAULT (Alpine A11O)
1974 ............... LANCIA (Stratos)
1975 ............... LANCIA (Stratos)
1976 ............... LANCIA (Stratos)
1977 ............... FIAT (131 Abarth)
1978 ............... FIAT (131 Abarth)
1979 ............... FORD (Escort RS)
1980 ............... FIAT (131 Abarth)
1981 ............... TALBOT (Sunbeam Lotus)
1982 ............... AUDI (Quattro)
1983 ............... LANCIA (Rally O37)
1984 ............... AUDI (Quattro)
1985 ............... PEUGEOT (2O5 Turbo 16)
1986 ............... PEUGEOT (2O5 Turbo 16)
1987 ............... LANCIA (Delta 4WD)
1988 ............... LANCIA (Delta Int.)
1989 ............... LANCIA (Delta Int.)
1990 ............... LANCIA (Delta Int.)
1991 ............... LANCIA (Delta Int.)
1992 ............... LANCIA (Delta Int.)
1993 ............... TOYOTA (Celica 4WD)
1994 ............... TOYOTA (Celica 4WD)
1995 ............... SUBARU (Impreza)
1996 ............... SUBARU (Impreza)
1997 ............... SUBARU (Impreza WRC)
1998 ............... MITSUBISHI (Lancer / Carisma WRC)
1999 ............... TOYOTA (Corolla WRC)
Tags: Tales of Toy Cars, Vehicles
---