In an ocean of plastic toys, these wood trains seem to have an heirloom quality to them. They "transport" us to bygone eras and imaginary places. But at the same time, trains made in the 1940's, 50's and 60's are still "happy" to share track time with the contemporary trains of today.

From a collecting standpoint, most child and adult collectors probably focus on the Thomas & Friends series of trains and accessories. However, there are also dedicated collectors of BRIO, Skaneateles-Playskool and other wood train producers, as well.

Micki Leksaker trains (1970's)
Some folks prefer the "natural" appearance of unpainted vintage trains ... while others are attracted by colorfully painted trains, old and new. My personal collection contains all types. Although neither large nor complete by any measure, my collection includes trains from more than a dozen manufacturers, and spans about 70 years of wood train production. The photos that accompany this article are all examples pulled from my display shelves.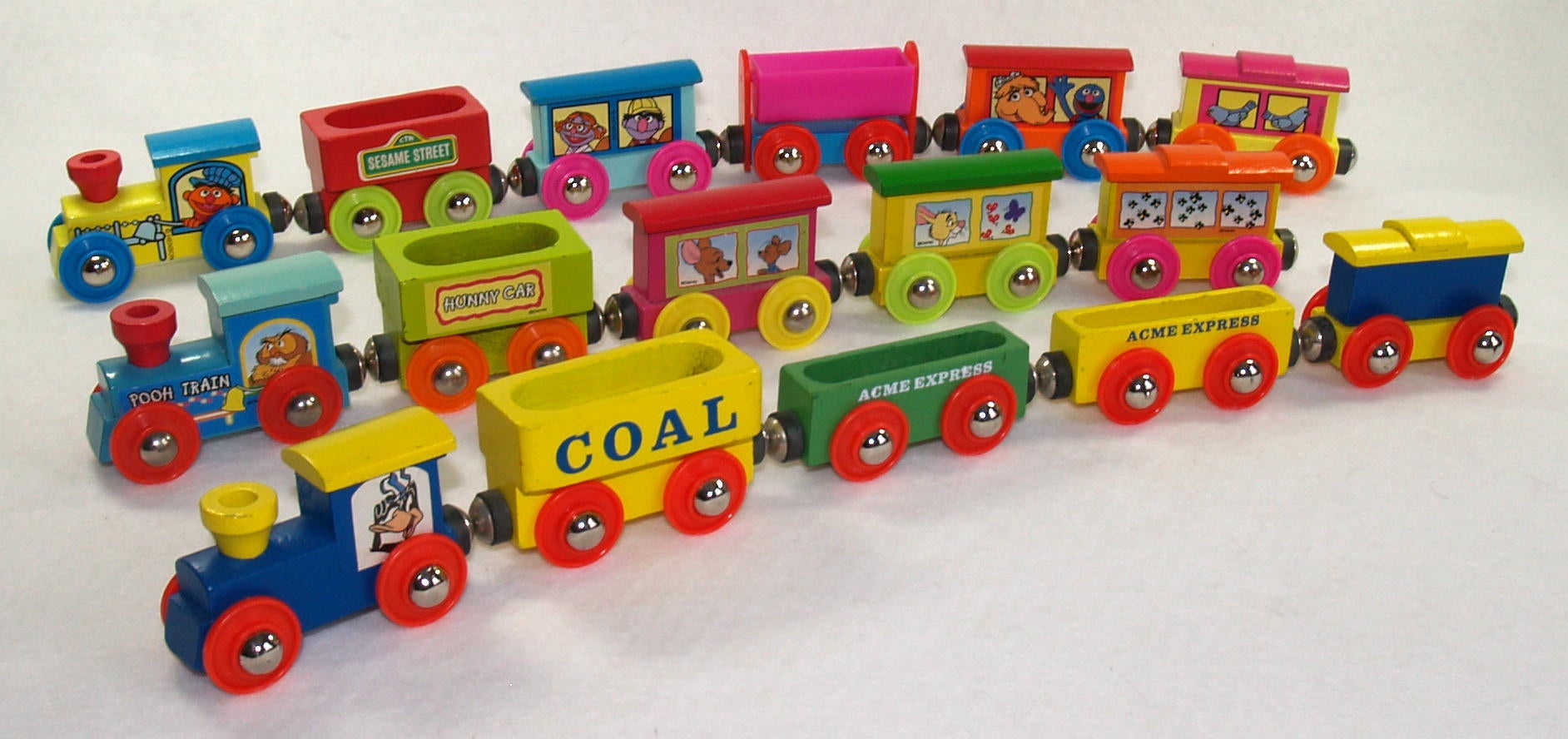 Looney Tunes, Winnie the Pooh & Sesame Street character trains (1990's)
'  
As you might expect, the train designs range from blockish to sculptural ... fanciful to quasi-realistic. There is also a wide variety of train and track coupling methods and hardware ... including strings, hooks, magnets, pegs and snaps. As a result, not all track sections or all trains from every manufacturer will necessarily connect with each other. The track gauge is the common factor.
BRIO dealer display with operating levers
Because of their educational value, durability and popularity with kids, many sets are kept within families for years ... sometimes for generations. As time goes by, additional trains, track sections and accessories are purchased to expand the layout and/or replace lost or broken components. It is quite common to find used wooden train sets with components from many different manufacturers.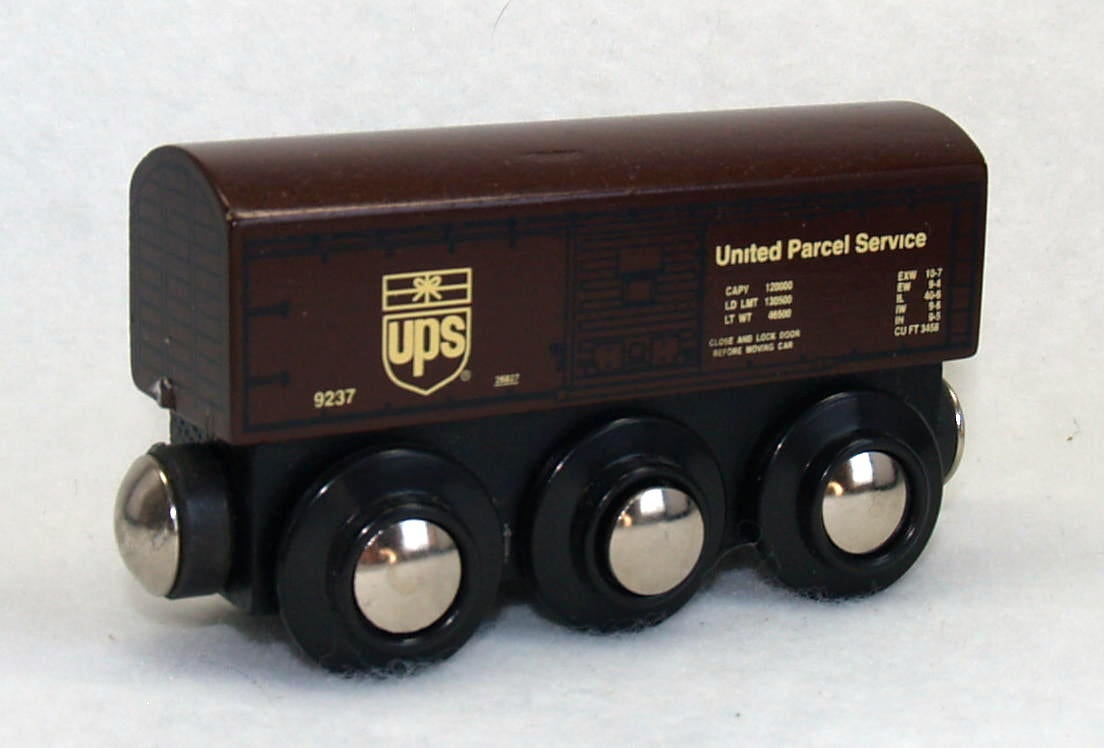 Prototype UPS boxcar (never produced)
'  
As with most toys with a relatively long history, finding vintage train sets in excellent condition has become more and more challenging. Since my display space (and budget) is limited, I focus mostly on the trains themselves ... rather than the track and accessories. I normally purchase trains as close to "excellent/mint" condition as possible. But the older the train, the more forgiving I am as to its condition.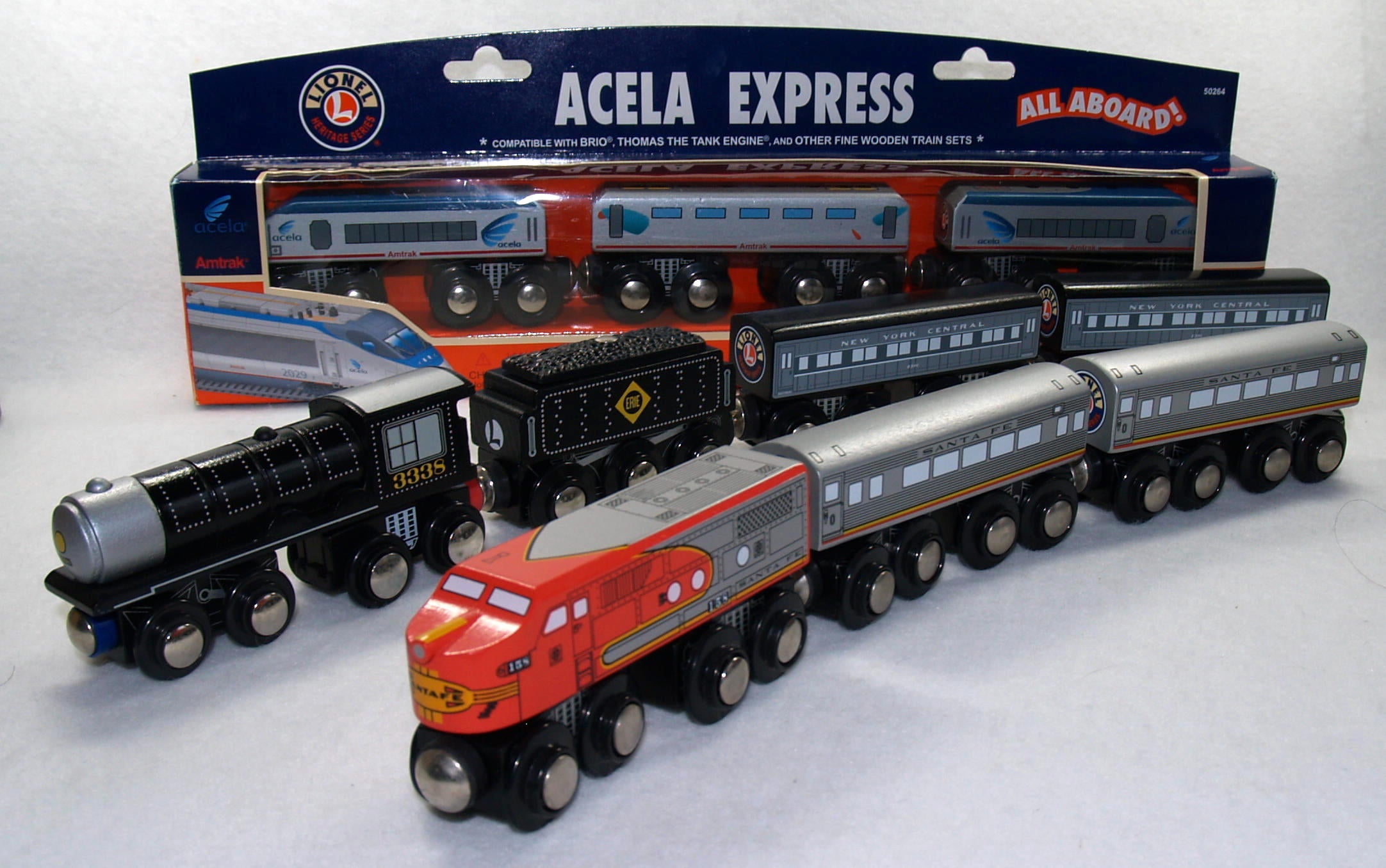 Lionel trains (2006)
'  
Occasionally I will also buy "distressed" sets as sources for period parts. Broken wheels and missing couplers are the most common maladies. However, I don't repaint or restore my trains, per se. The most a train will usually get is a gentle cleaning. (I don't consider dirt and grime to be "patina".)
I also actively search for vintage and contemporary catalogs and printed advertisements, to help identify and date the trains. These can be as difficult to find as the trains themselves.
Playskool Skaneateles train set (1970's)
'  
The concluding photo shows of one of the last toy trains that Marshall Larrabee had personal design involvement in. This handsome train was produced for a short time after he sold his company to the German toymaker Habermass in 1980. The "family resemblance" between this train and the original Skaneateles trains is unmistakable. The Skaneateles NY factory was finally closed in 2003 ... ending over 60 years of wood train production. So like all wooden train layouts, our train history has now come "full-circle". This brief look at wood train history started in Skaneateles and now ends in Skaneateles.
Larrabee's last train (est 1980-81)
'  
Thanks for coming along on the journey. Please feel free to contact me with comments or any historical data you may wish to contribute.
'  
Tags: Trains
---