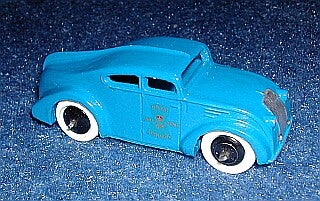 Early Dinky Toys have become very rare, especially in good condition. Of course, these products were made as toys and were used as toys. Furthermore the quality of the diecast alloys used by Dinky Toys before World War II was not the best, many surviving pre-war Dinky Toys are now suffering from metal fatigue. As a consequence, if you come across a pre-war Dinky Toy that still displays well you will notice that it is very expensive.
'  
On the other hand, the early Dinky Toys castings are quite simple, so it is not too difficult for a talented modeller to make copies of these castings. Since the 1970s, several manufacturers have released white metal copies of Dinky Toys, e.g. Dave Gilbert who later also added his own models in the style of pre-war Dinky Toys to his D.G. Models range. But on most Dinky Toys copies'   no manufacturer is indicated. They can't be mistaken with original Dinky Toys: Since they are made of white metal, they are heavier than the original diecast models, and of course they don't have any signs of metal fatigue. However, they give a nice impression how the original Dinky Toys looked like when they stood in the shelves of the toy shops more than 70 years ago...
A current supplier of Dinky Toys copies is MK Modelcarparts in the Netherlands, a shop specialized in spare parts and replica boxes for obsolete model cars. Their catalogue includes replicas of French and English Dinky Toys, mostly from the pre-war and the early post-war era. Among the French models, some cars of the 24 series (Peugeot 402, Citroƒ«n 11, Citroƒ«n 2 CV) and trucks of the 25 series are available, but also pre-war models such as the roadster and the sportscar from the 22 series and the small Simca 5. But there is even a wider range of cars and commercial vehicles originally made by Dinky Toys UK: cars, tractors, vans, trucks and buses from the 22, 24, 25, 30, 34, 35 and 42 series are available, as well as some more recent items and even the famous #38e, the Triumph Dolomite roadster announced but never released by Dinky Toys.
'  
This is a copy of #24c, the Town Sedan originally produced by Dinky Toys UK from 1934 to 1940.
'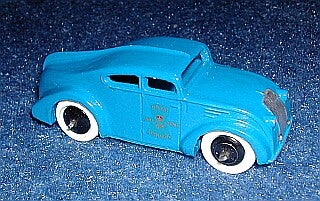 Another pre-war Dinky Toy from England is the Royal Air Mail Van (#34a), originally produced from 1935 to 1940. The original of this streamlined vehicle was used as an advertising car in the mid-1930s.
'  
The Royal Mail Van (#34b) was made by Dinky Toys UK from 1938 to 1940 and from 1948 to 1952. This item is easily recognizable as a copy because of its wheels. It is the only one of the models pictured here on which the manufacturer of the copy is indicated. The baseplate says: "Model Road Productions - Morris Van - Nr. 4".
'  
---