Amazing though it may seem, there are those who seek to make their Lamborghinis even faster and even more distinctive than the versions which emerge from Sant'Agata, going beyond even Lamborghini's own Ad Personam personalisation programme. And even more amazingly, there is a small and select group of tuning companies who are willing to take on the gargantuan task of attempting to build such cars. This has particularly been the case since the launch of the Gallardo which, as a more mass-market Lamborghini, lends itself a little more to the tuners' art. Two such Gallardos are among those included in the LookSmart range...
Hamann Motorsports Gallardo
The Hamann Motorsports Gallardo is Hamann's first attempt at working on a Lamborghini - and a highly impressive start it is too being at once low-key enough to remain tasteful, while managing to boost the car's performance and tweak the styling with a body kit.
The full-size Hamann Gallardo without rear spoiler & logo decals.
At the front, the German company provides customers with a new front spoiler, while the sides of the car are embellished via sill extensions and air intakes and its flanks get air scoops of their own. Out back, there's an (optional) imposing three-piece spoiler and a rear diffuser. All of these parts come in a choice of carbon-fibre or fibreglass, depending on which look you prefer with your Gallardo's particular colour. The standard wheels, meanwhile, are swapped out for Hamann's own 19-inch alloys in a design named "Anniversary II". These are finished in silver and come with 9 inch wide tyres at the front, and 12 inchers at the back.
But the Hamann package isn't just about looks. The Hamann Gallardo also gets a Hamann exhaust system with twin sport silencers and quad exhausts, which can be combined with special sport catalysts as an option. Taken together, these increase the car's output by a further 26Hp.
The LookSmart Hamann Gallardo with spoiler & logos.
ItalCarDesign's Gallardo Miami Edition.
While the Hamann Gallardo can be bought with Hamann logos, for those who require something a little more immediately noticeable, there's ItalCarDesign's Gallardo Miami Edition.
The ItalCarDesign Gallardo Miami Edition - again not fitted with rear spoiler.
The Swiss company will tailor these to the customer's exact requirements, but the standard treatment sees the car fitted with a black roof and engine cover, while the wheels are colour-coded to match the car's finish - this refinish can be carried out on the standard wheels or ItalCarDesign can substitute their own. Miura-style slats are an option for the engine cover, while an angular rear spoiler can also be added. Engines are also tuned to put out between 540hp and 565hp, again depending on the customer's requirements. You can also specify door hinges that give the Gallardo semi-scissor doors more akin to those found on the Murcielago.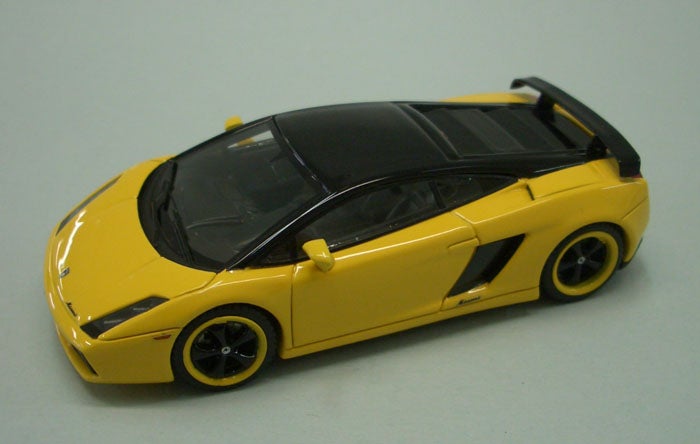 LookSmart's Gallardo Miami Edition with spoiler and Miura-style engine cover.
Next Week: Prototypes!
---