As I mentioned in my piece on our trip to the Houten fair, we stopped off the night before the event to visit with Henri Kroeze of Tiny Toy Cars at his extremely cool shop in Gravendeel.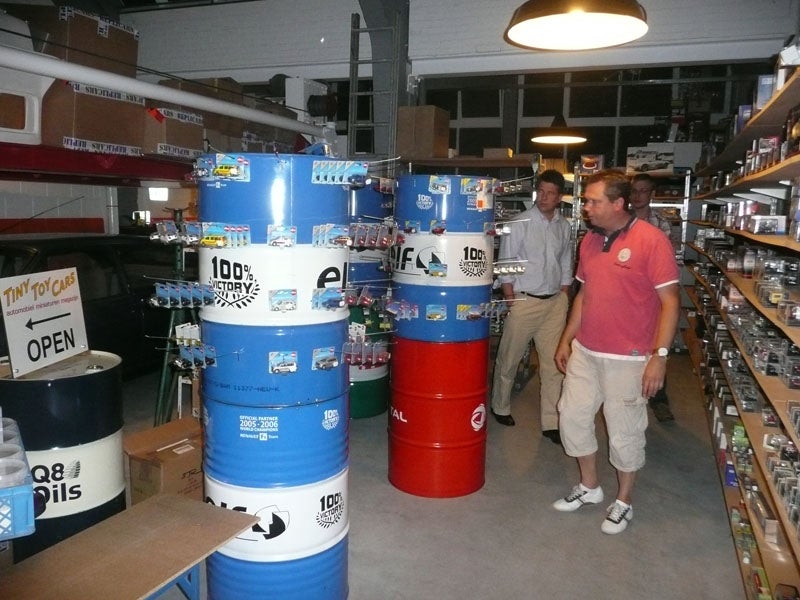 Some of the TC crew being shown round TTC by Henri
Tiny Toy Cars grew out of Henri's collecting hobby six years ago and specialized in selling mostly 1/64 scale model cars from Norev and Siku, before branching out into other scales, including the highly popular high-end 1/43 brand Neo Scale Models (being a Dutch company, TTC has excellent links to Neo and carries their full product range), plus 1/18 and 1/76 models, including those by Norev and Oxford Diecast. The business started out on the internet (and the website still accounts for 95% of its custom) but two years ago, Henri opened his real-world shop, which is open on Fridays from 19.00 to 21.00 and Saturdays from 13.30 to 16.30.
TTC is an excellent illustration of how the diecast collecting hobby has taken advantage of the internet and how collectors can now go online and obtain models they'd have almost never been able to get their hands on just a few years ago. Most of Henri's customers come from outside the Netherlands: he sells a lot of cars to America, Asia and Japan, with Eastern Europe and Russia coming up more on the order forms as well. With Neo rising in popularity worldwide, Henri finds that many collectors outside the EU are taking advantage of his position as the only European-based seller who sells the models to them tax free.
Another view of the shop - and the TTC delivery van!
Besides the Tiny Toy Cars website, Henri also takes advantage of all the possibilities the web has to offer. "I've just started on Facebook," he tells us. "I found lots of customers on there. I want to be on all platforms, and have the shop, plus the forums and the blog." He estimates that most of his customers are aged 30-50, looking to collect models of the cars that were around when they were young and a perfect demographic to reach online. Most opt to have their models shipped out to them, while others, if they're more local or visiting the area, come in and collect from the shop.
The TTC blog is a great read and a must-have in the RSS reader of any collector, as that's where Henri announces all the new arrivals in the shop - and in addition, he also uses Flickr, taking his own images of all the models and uploading them by brand, which gives TTC the personal touch over many other online retailers which use the manufacturer-provided stock images of models. Henri does sell on eBay, but, like many others these days, finds the site's interface does have its limitations. "I can't connect my stock levels to eBay," he explains, "so I have to keep track of what I'm selling on there and amend my stock levels accordingly. Plus their titles and descriptions are not quite uniform yet."
Forums also play a big part in the TTC strategy - Henri has used the Dutch diecast forums to organise collector events at the shop, including swapmeets and displays of local collections, with 1:1 scale classics (like his own VW Transporter, Renault 15TS and Mercedes Coupe) in attendance. Indeed, the TTC shop plays host to numerous fun days out - Henri also organises a valuation event where people are invited to bring in their old toys and have them valued by an expert. And Henri is also planning to attempt a world record by being the first to have 1,001 Bugatti Veyrons in all scales in one place at the shop - including one full size car.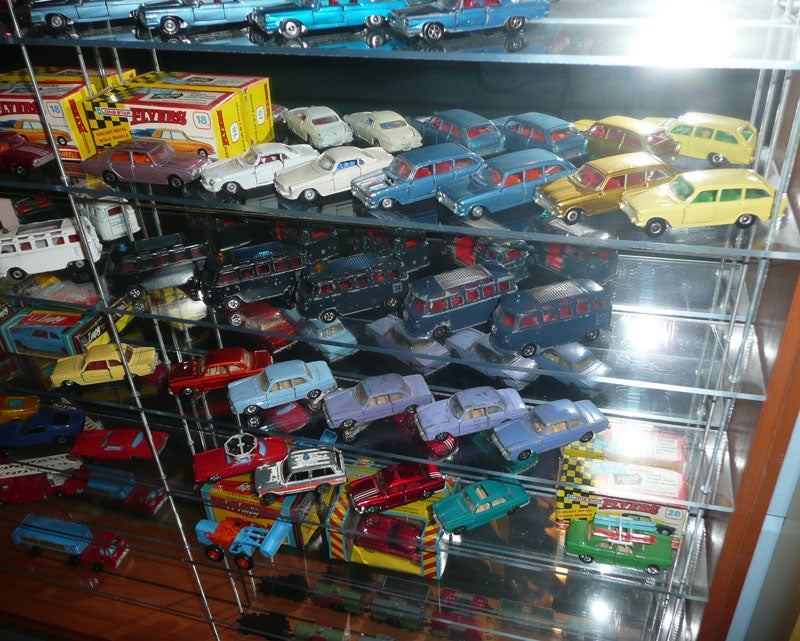 Some of Henri's Lone Stars
For his own collecting, Henri favours 1/64 scale models (as his display cabinets filled with wonderful early Majorette, Lone Star, Matchbox and other three-inch brands attest.) "I started at five collecting diecast," he tells us. "I was always into cars and three inch cars. I never really liked Dinky or Corgi, they were too large."
Unfortunately, though, while Henri was at school, in a familiar tale his younger brother decided that much of his childhood collection would make great sandpit toys. "So now I have to buy them all back!" he concludes!
Henri's interest in 1/64 does make him a standout among European collectors, most of whom favour 1/43. As he puts it "Three inch scale is very uncommon to collect here. It's not considered a serious scale to collect." Even now, he tells us, manufacturers still have problems getting a 1/64 range to bed in within the European collecting market. Minichamps, for example, have delayed the second release of their high-end 1/64 range for a second time, and there is concern that it may not come at all. And Norev have cancelled all their forthcoming 1/64 releases.
Henri's fantastic vintage Majorettes
All of which does create some stock problems for TTC - especially as three-inch Norev were formerly the shop's best-selling item, although they've now been displaced by the 1/43 Neos - the brand tell Henri he's currently selling more Neos than anyone else worldwide. Echoing the thoughts of many collectors, Henri puts much of a brand's sales success down to its model choices. "The problem with Minichamps was, I think, that there were way too many Porsches. The more interesting models were selling like mad," he says. "For the right models, the market would expand." He cites Siku's classic models and Oxford Diecast's choices as an example of how to get it right. "Siku generally target the children's market, but the VW Karmann-Ghia, for example, was very successful," he tells us. "And Oxford diecast do models nobody else has done."
Asked what he'd like to see more of, Henri's very clear - he'd like to see Siku do an old Opel Kapitan or similar. And in general, he'd like to see more European cars from the 70's and 80's as there's the most demand for these thanks to those aforementioned collectors in the 30-50 age bracket after models of vehicles around when they were young.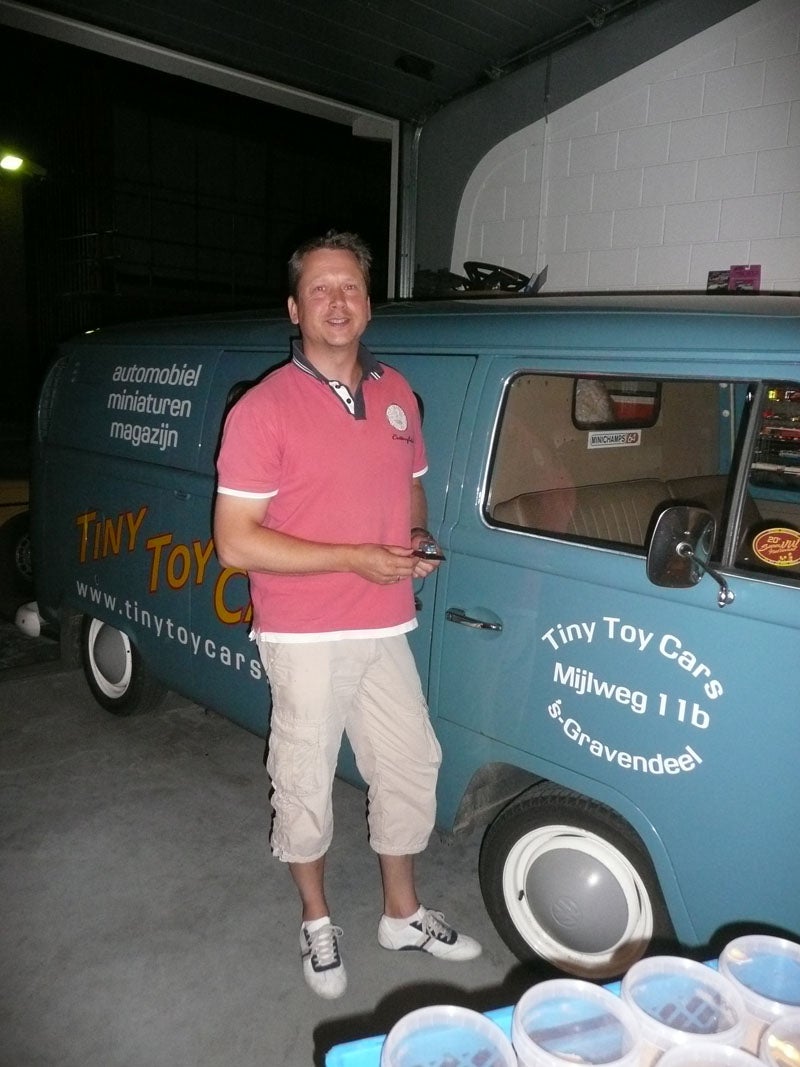 Henri with two scales of VW Van!
As far as obsolete models go, we asked Henri what did stand out among the Dutch collecting scene. "You get a lot of interest in unusual brands," he told us "[Dutch department store] Hema sold Lone Star and Efsi, so we got a lot of "other" brands here as well as Siku and Majorette. And there's a mix of German, French and other European cars here, so a lot of interest in pan-European subjects." (Interestingly, we found at the fair the next day that most of the Dutch collectors we spoke to either favoured collecting "everything"- ie all sorts of brands - or models of particular car makes, with Citroen being highly popular).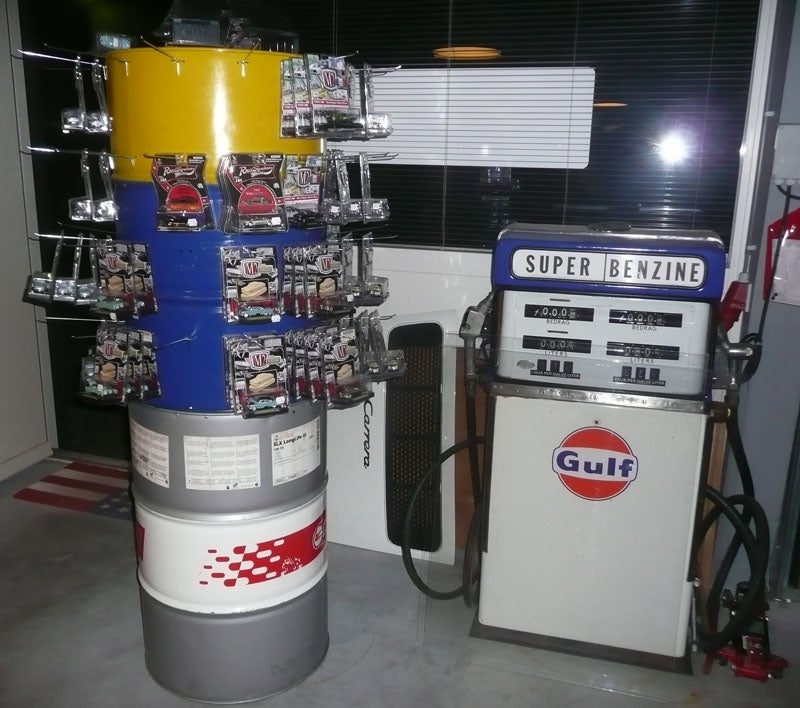 Henri's 1964 Gulf pump alongside a display of M2 diecast
Before we left TTCHQ, Henri was also kind enough to give us a tour of the place and tell us all about the great accessories he's got there. These include his 1970 VW Transporter in carefully-constructed period-style TTC livery (there's a model coming soon too!), a Gulf petrol pump from 1964 and an amazingly rare example of a Koni car inspection ramp from 1948. The famous shock-absorber manufacturer is located just ten kilometres away and some of its retired engineers have visited TTC to marvel at the ramp - not least because all examples of it were supposed to have been destroyed as the design lacks the mechanical brake system mandated by later safety laws. Henri's example is locked in its raised position (to ward off any danger of it squashing Henri's Renault), but it still functions and moved to the raised position under its own power!
Henri's rare vintage Koni ramp provides shelter for his Renault 15TS Coupe
You can find TTC on the web here, and its Toy Collector Yellow Pages listing is here. Many thanks to Henri for being such an excellent host, and if you're in the area on a Friday or Saturday, his shop is more than worth a visit! And rest assured, we'll be publicising all his events (like valuation day and the Bugatti record attempt) here on TC from now on!
- LaToya
Tags: Dream Toy Jobs, Vehicles
---