John Nijhuis is a Matchbox renaissance man, having founded the Matchbox Forum (www.mbxforum.com), an international not-for-profit organisation of Matchbox collectors in three divisions worldwide: North America, Europe and Australia. However, he also designed and maintains the club's website and has made it one of the first and foremost web-friendly diecast organisations in the world. We caught up with him and discussed collecting, Matchbox distribution and the effect of the internet on collecting and buying in general.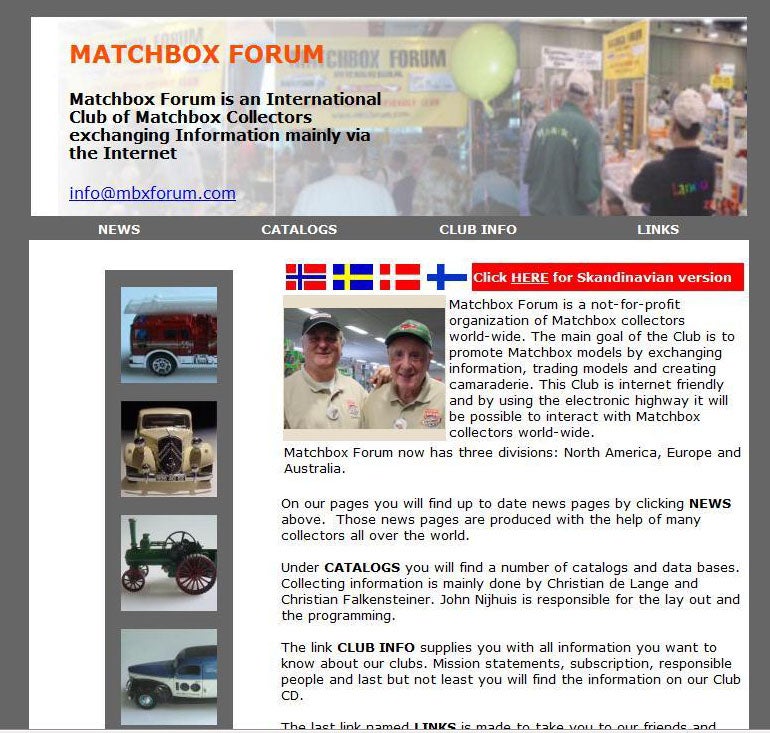 The Matchbox Forum homepage, featuring John (top left)
John has an enviable collection of some 16,000 model cars, most of which are, he says, Matchbox, Schuco, Hongwell "plus everything else." In addition to diecast, however, he has also collected stamps for around 40 years and also has collections of pre-1940 encyclopaedias and pre-1914 illustrated books. But his main passion is, of course, Matchbox - when the brand celebrated its 50th anniversary recently, he was interviewed about his collection for a local paper in the southern Netherlands and the article was such a hit the journalist was able to sell it nationwide, and John also served as Mattel's Matchbox Ambassador for 2009-2010, channelling collectors' requests to Mattel and visiting their design centre in El Segundo to meet Felix Holst, top Matchbox man at the time. What, we asked him, was the biggest issue the collecting community asked him to raise at the time?
"It's the fact that a lot of the models are typical European cars, but they only sell 75 out of the 100 models per year in Europe," he tells us. "Apparently it's because of the numbers available for the barcoding - but I made a list of the cars produced over the last 3-4 years and 60 per cent of the cars they make are Euopean and sell in the US!"
So what was it that drew John to collect Matchbox in particular, John cites the brand's original pricing - it's low pricing, that is. "It's a poor man's toy. My parents didn't have a lot of money and my friends got Dinkies, while the poor boys from large families had Matchbox. Matchbox has always attracted people as a brand as they're nice, cheap and affordable. I forgot about them when I grew up, but then saw they were still in shops and started collecting them then." He does, however, feel that the brand did get overtaken somewhat (along with most of the other British brands) by Hot Wheels when Mattel launched the range in the late sixties - in sales and "kid appeal" terms at least.
"Matchbox lost ground to Hot Wheels when Hot Wheels was getting fast and furious. And they didn't change their mindset quickly enough. They replaced the axles with thinner ones, but they kept making cars like they always did, while Hot Wheels had car designs that were more attractive to kids, while Matchbox stuck with the same British atmosphere and models of British cars, while Hot Wheels did more American cars for the American market."
So then we asked him the question that every collector dreads - what's your favourite Matchbox car? "The London Taxi," John tells us. "All of them - it's amazing in these modern times that such an old design can go on!"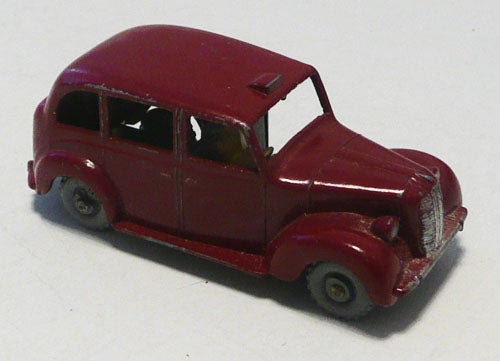 One of Lesney's earlier London Taxis - John's favourite of all Matchbox's models
But while the iconic London Taxi seems able to continue on even nowadays with great success, does he think the traditional diecast brands can do the same?
High quality at a low price point is key, he tells us. "I think in the past, Corgi and Matchbox made the same mistake," he says. "They wanted to compete with companies like Franklin Mint, who are excellent marketers but who make models that appeal more to people who want to make an investment. If you look at the 1/43 market, Hongwell have taken over - they can make nice looking cars so cheaply and nobody is willing to pay over 50 Euros for a certified collectable any more."
"It goes beyond diecast too. Lego made computer designs, robots, you could design your own model online and they had to close a lot of sales offices and went back to simple products and now they can't keep up with production again. People just want a simple system."
Also, he points out, the success of diecast sales, even at a lower price point, has to do with the concentration of distribution channels. "The retailers are now big and they make all the decisions. If Tesco want Matchbox in the UK, you'll be able to find and buy them. The same in the US with Walmart. Lose a big customer and you lose a lot. But it's a fact of life - and it's why we have special series like Best of British being sold everywhere in the world except in the UK!"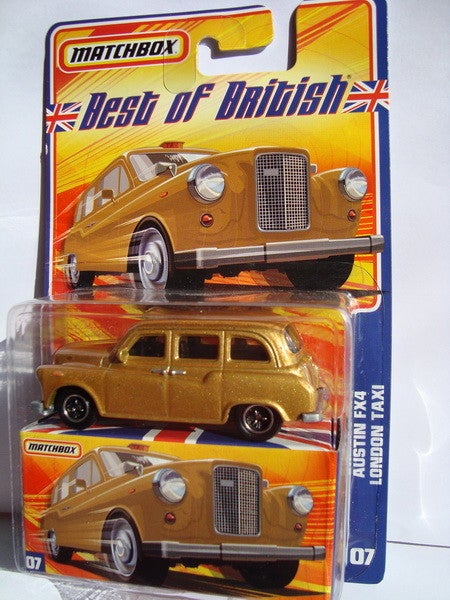 And a newer, Best-of-British taxi, part of the range which suffered ironically poor availability in the UK!
Certainly, whatever the case, the Matchbox Forum is doing its bit to keep the collecting hobby in the spotlight, though, and in cyberspace too. The club doesn't have a message board - as John points out, there are plenty of those already - but they do have their online catalogue of models and variants which has six volunteers keeping it bang up to date.
"We have 25,000 pictures in the database," he tells us. "The only thing we're missing are details of some Models of Yesteryear. Everything else is there!"
A very early adapter of technology who correctly predicted that the world would be going online as far back as the 1970s when he worked in computing, John also points out how the internet has allowed the club to create such a collaborative database project - and how it has changed the face of collecting.
"The internet is changing the world. Our club is net based, we don't have conventions so much any more. People don't travel for that anymore, they can get cars anywhere. In the old days, at conventions, you could buy cars, but now you can get them online, people sell through eBay and communicate through message boards."
"The world is a very different place and it's all about taking advantage of that!"
We certainly agree, John!
Tags: Dream Toy Jobs, Vehicles
---