In the never-ending quest for "just one more teddy bear" to add to our collection, we have searched in all the usual places - at antique shows, shops, boot sales, flea markets and numerous unlikely places. You just never know where that next teddy bear is going to turn up! We must admit that a fair number of teddies joined our collection from visits to Great Britain, back in the days before teddy bears were the hot commodity they have become. I remember one such trip in which we returned with no less than 5 extra suitcases filled with teddy bears! We did have to pay a significant charge for extra luggage, but it would have been more expensive to ship them, and we simply did not want to take the chance of them being lost.
We have learned over the years not to be surprised where our next teddy bear comes from. A case in point was a television appearance we did with teddies from our collection, sharing their stories on a program dedicated to "unusual" hobbies. The appearance apparently had a significant impact on one viewer, as we received a phone call shortly after the program aired from a lady who said she had a teddy bear she wanted to send us. "That's great"" exclaimed Doris. "Is it an old teddy?"

"Well, it was mine and I'm old!" came the firm but friendly response. Doris suggested we would be more than happy to come and pick it up, the lady said she would simply mail it. Several anxious days passed, and finally the mailman brought a package to our door. Like children at Christmas time, we carefully opened the package to reveal a thin, 12 inch (30.5 cm) teddy with sparkling shoebutton eyes peering out at us. Tucked in the package along side of teddy was a heart warming letter from the owner. "Teddy was born in 1909 and given (to me) at birth. He was just a beloved toy and then a friend and confidant all through high school and Lake Erie College, where he received his A.B, and then at the University of Michigan where he received his M.A.L.S. (Masters degree in Library Science). Long ago there was a little silver trademark disk in one ear but I have long forgotton what it said (a Steiff trademark).
He has been hugged and kissed and wept on and loved these many years. I now entrust him to you, who sound (like) just the right person."
The letter was signed by the lady, and it was several minutes before we could regain our composure. Our collection at that point was numbered in the range of 300 or more old teddies, but this was the very first bear in the collection with a Master's degree in Library Science (or should that be Libeary Science??). Some of life's great surprises come when least expected.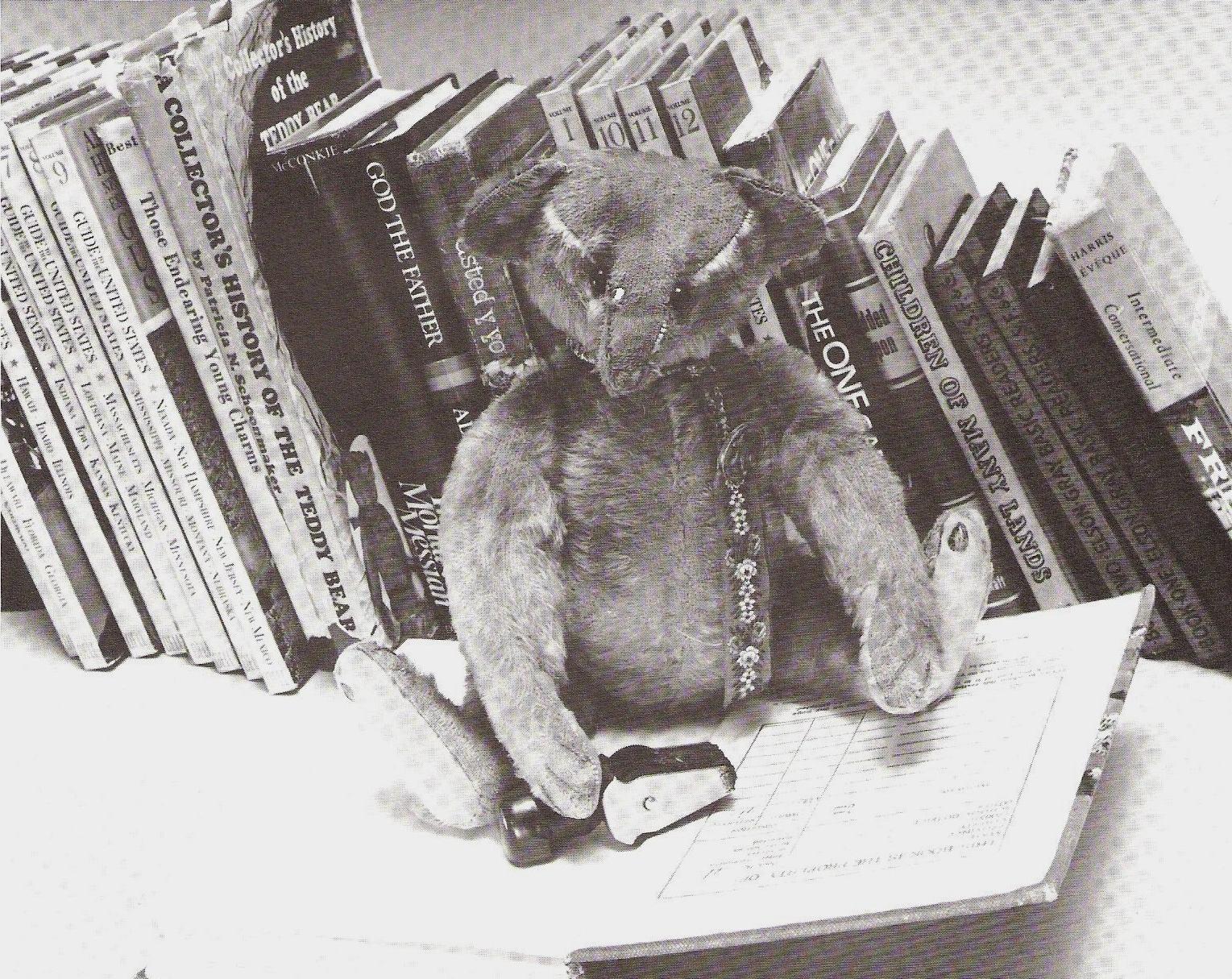 The Librarian teddy is now fully in charge of the Michaud library.
Tags: Bears and Soft Toys
---