live on in an evocative Corgi Aviation Archive Series..
The iconic names in World War I aviation history are gradually being brought once more to the fore as the Corgi Aviation Archive range selects the 'greats' amongst them in an ongoing series of WWI Airborne Aces/Knights of the Air. Some of you may have watched the recently televised documentaries featuring some of these unassuming, everyday ordinary figures, who achieved so much with so little training and experience. Not only that but the aircraft they flew were potential death traps, made of wood and canvas with little or no chance of survival if you were shot at, which usually meant the pilot and plane went down in flames. It is even reputed that British WWI ace Edward 'Mick' Mannock, terrified of being shot down, carried a loaded pistol with him so he could end his own life rather than being burned alive or captured.
These 1:48 scale Corgi Aviation Archive gems are a genuine work of art. In real life, these fragile bi-planes often took on the gregarious and confident garb of their pilots, appearing in magnificent colour schemes. Authentically replicated in Corgi miniature, the aircraft also feature an extremely high level of detail, down to the intricate fully detailed rigging and - coming shortly, as part of the new summer 2009 introductions - photo-etched radiator grilles on the engines!
For aviation enthusiasts of this era, when manned flights were very much in their infancy, let alone instruments of war, this Corgi range provides an excellent cross section of the key allied and enemy aircraft of the day. The newly tooled series - featuring an initial six iconic bi-planes first appeared in the 2007 Corgi catalogue as the World War I Collection, with further newly tooled additions in the 2008 catalogue; and more recently the 2008/9 edition. There are also further releases to look forward to in the new 2009 programme. All carry limited edition status and are modelled in 1:48 scale, which ensures a much great level of detail and authenticity than a 1:72 scale option.
The German collection comprises
AA37801 Albatros DV of Ritt Manfred von Richthofen - the Red Baron, in his equally red 'Le Diable Rouge' or 'Red Devil' aircraft. This indominatable duo were the scourge of the skies and the Red Baron scored three quarters of his 80 victories in his Albatros.
AA37802 replicates the Albatros of Ltn Friedrich Ritter von Roth, who by the end of the War was the highest scoring German 'balloon buster' His aircraft was distinctively painted in yellow varnished plywood with all metal cowling panels, wheel covers and struts painted grey with a white spinner. He was so distressed that the Germans lost the war, that he committed suicide.
AA37803 is the Albatros DV of Ernst Udet, who had become a national hero by the end of the war, notching up over 62 victories during the conflict - second only to the Red Baron. Manfred von Richthofen was so impressed by Udet's performance that he invited him to join his elite 'Flying Circus', giving him his own Jasta to command.
Perhaps the most colourful of all the Albatros DV models in the Corgi series is the latest addition AA37804 of Uffz. Paul Baeumer. Highly distinctive in green and red with lilac coloured wings, tipped in green, this German 'Eagle' certainly did not go in for camouflage! Based at Snelligem, where he gained his 6th and final victory, Baeumer was awarded the Pour le Merite honour in November 1918.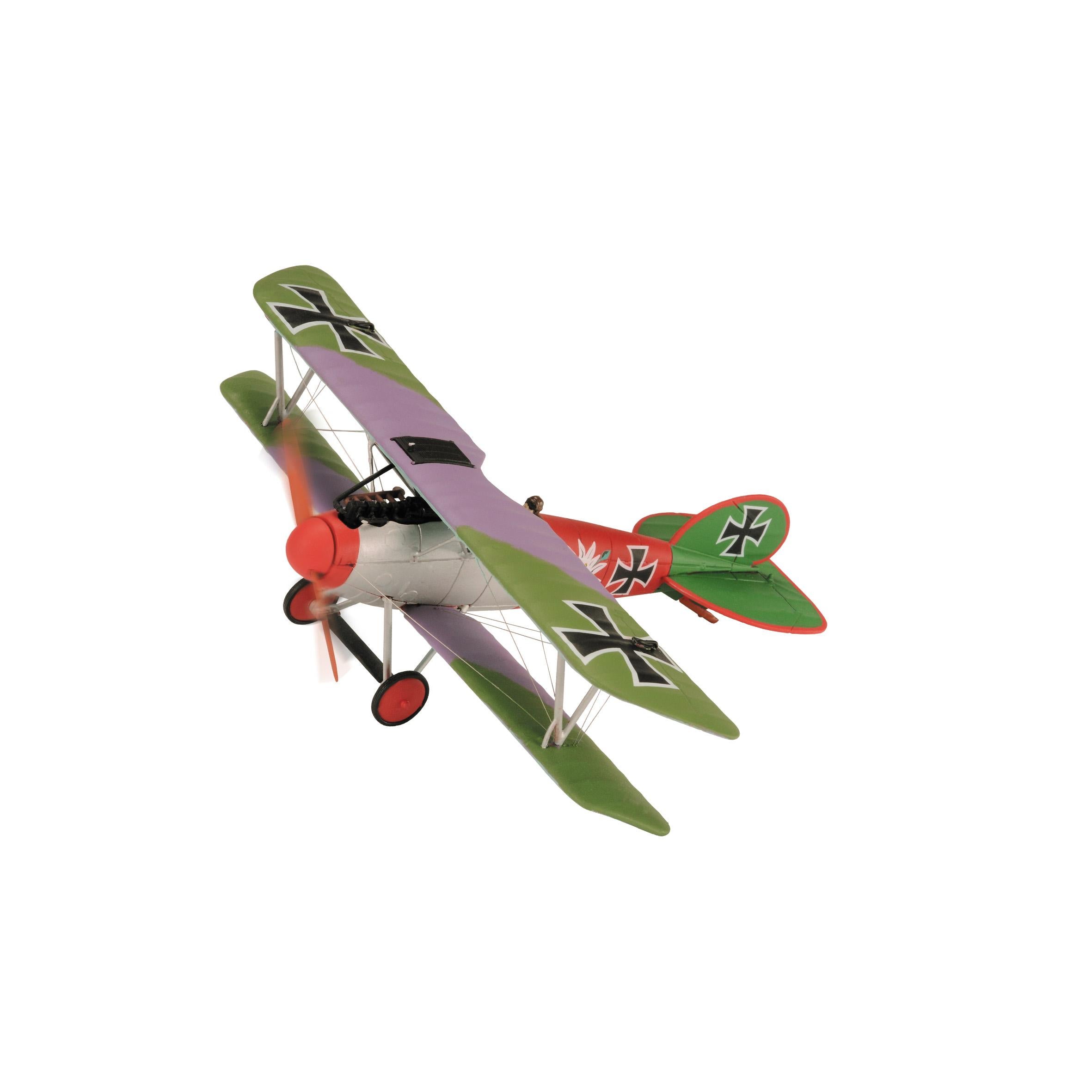 On the French side, there have been three releases to date
AA37901 Spad XIII of Captain Charles Biddle, a famed American air ace, who joined the French Air Force after attending Princeton and Harvard. Biddle's personal livery included a blue and white radiator cowl and a commander's tricolour band. He also carried several victory marks of five notches on the Grim Reaper's bloody scythe and four tiny crosses behind the running skeleton. Another cross above the tricolour represents a patched bullet hole.


AA37902 Spad XIIIC of Georges Guynemer, who achieved 600 air combats, received 26 citations and is reputed to have scored almost 100 kills, although officially credited with 53 - a notable record, even so.

AA37903 Spad XIII - Eddie Rickenbacker. This airman was the most famous US pilot of World War I and was a recipient of the coveted Medal of Honour. He learned to fly in France, having been posted there as an army driver. In March 1918, he joined the newly formed 94th Pursuit Squadron. Two months later, he achieved the necessary five victories to be classed officially as an Ace. His final tally was 26 aerial victories, earning him the title of America's 'Ace of Aces'.

The British introductions are marked with the famous SE5a and the equally legendary Sopwith Camel

AA37701 RAF SE5a of Lt C A Lewis, B658 Night fighter, as operated by the Home Defence of No.61 Squadron based in England in 1918.

AA37702 RAF SE5a of Capt. W A 'Billy' Bishop of the Royal Flying Corps, No. 60 Squadron as flown in the summer of 1917. Billy Bishop was a Canadian, scoring 72 victories. He was the first pilot to surpass the record of the famed British Ace, Albert Ball. Billy Bishop was part of the group of airman, including Jim McCudden, Albert Ball, Mick Mannock and many other British aces, who found the SE5a an aircraft in which they could fight on equal terms with the enemy. The SE5a is still revered as one of the great warplanes in the history of aviation.


AA37703 Royal Aircraft Factory SE5a of RAF No.1 Squadron appeared in 2008 as part of the Corgi Aviation Archive series celebrating 90 years of the RAF. The squadron was the founder squadron of the Royal Flying Corps set up in 1912 and has a special place in RAF history. It was equipped with the SE5a in 1918 and played an important part in fending off the German attack of the more vulnerable bomber aircraft of the day.
AA37704 SE5a of Edward 'Mick'Mannock. This arguably 'unsung' hero joined the Royal Flying Corps in 1917 and was assigned to 40 Squadron at St Omer in France. In February 1918, he was appointed flight commander of 74 Squadron, finally going on to become commanding officer of 85 Squadron. He had 61 victories to his name when he was sadly shot down and killed by enemy ground fire. He was posthumously awarded the Victoria Cross.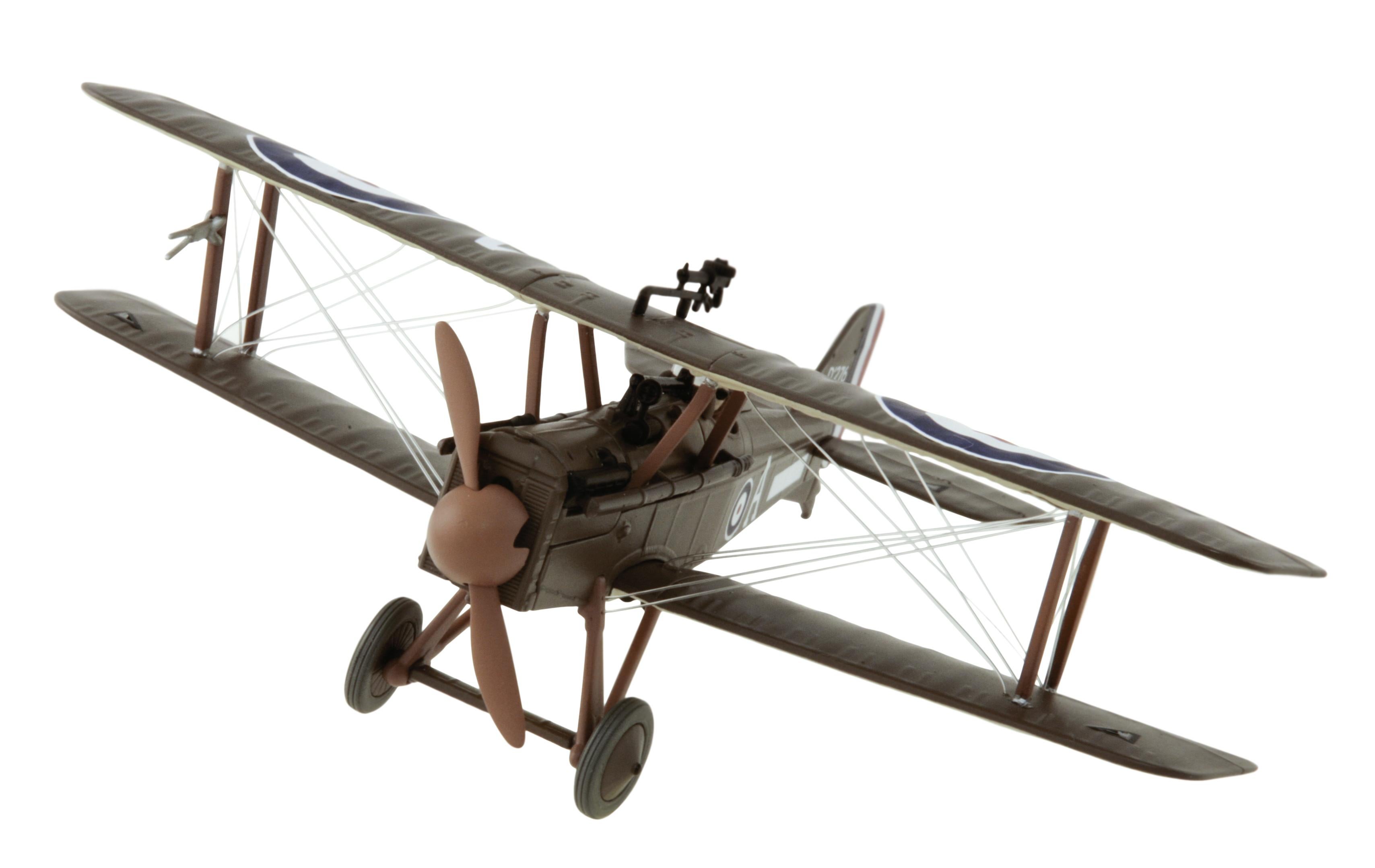 AA38101 Sopwith Camel – Henry Botterell. This Canadian pilot, born in Ottawa in 1896, gained great celebrity status in the latter part of his life as the sole surviving Royal Naval Air Service pilot and the oldest First World War fighter pilot of any nation. When he died in January 2003 aged 106, there were none left. He came over to England in 1916 as a civilian pilot and joined the RNAS No.8 Squadron a year later. After a serious crash, he was discharged on medical grounds but was persuaded by some of his squadron comrades to re-enlist with the newly formed 208 Squadron. This he did and in his Sopwith Camel, achieved 91 sorties between July and August 1918.
AA38102 comprises the second release on the 1:48 scale Corgi Sopwith Camel - that of William George Barker, another Canadian WWI flying ace, who joined No. 28 Squadron RFC at Yatesbury in September 1917. He went with the Squadron as 'C' Flight Commander when it was deployed to France. W G Barker was one of the most famous and successful Sopwith Camel pilots of the conflict. The highly detailed Corgi model is completed in wonderful decorative detail.
In 2008, the Corgi Aviation Archive collection saw another piece of new tooling in the shape of the Fokker DR.1.Triplane. The first release was seen as part of a gift set under model number AA39913 which included the Fokker DR.1 of Manfred von Richthofen, in his usual red colour scheme, in combat with the Sopwith Camel of yet another Canadian flying ace Captain Arthur Roy Brown. It was during a dog fight between these two aces, in which a third aircraft became involved - piloted by Brown's friend Wop May - that the infamous Red Baron was shot down. Brown was acc
redited with bringing him down but subsequent research would indicate that the Red Baron was shot at from the ground - by an Australian gunner.

The first single release on the Fokker DR.1 was AA38301 as flown by Josef Jacobs. Born in 1894, he lived until July 1978 and was the joint 4th German flying ace with 48 victories during WWI. His triplane was a distinctive and menacing black, decorated with black and white German crosses on the wings and sides and a black out of white cross in the tail. Jacobs too earned the coveted Pour le Merite for his achievements.

AA38302 Fokker DR.1 - Lothar von Richthofen
Lothar-Siegfried Freiherr von Richthofen was the brother of the famous 'Red Baron' Manfred von Richthofen and despite the fact that Lothar was very much taller in statue, his valiant exploits were very much overshadowed and understated due to the celebrity status of Manfred. Having trained initially as a German cavalry officer, he transferred to the Luftstreitkrafte in 1915 and obtained his pilots licence a year later. His first combative success was in March 1917 and by the end of April the same year, he had scored 16 victories against the Royal Flying Corps pilots. Despite the devastating death of Manfred, Lothar went on to score over 40 aerial victories against the Allies, effectively making him one of the most efficient fighter aces of WWI.
The Corgi replica of his Fokker DR.1triplane is available now and represents the aircraft in which he shot down the famous English ace John Summers flying a Sopwith Camel - his final victory on 12th August 1918.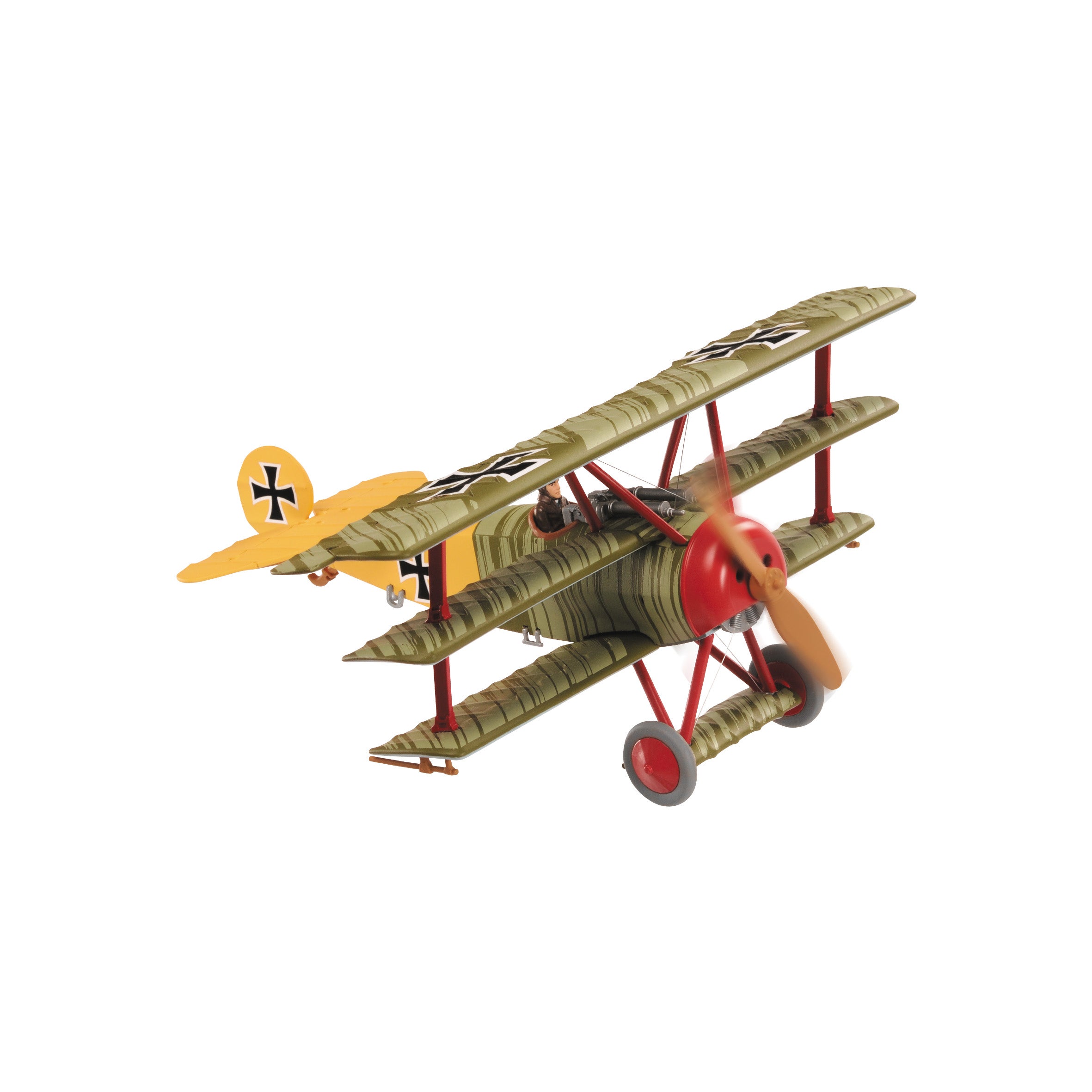 The series comprises a worthy collection and is available from Corgi retail outlets, particularly those specialising in the Aviation Archive range, as well as Corgi Direct Sales. The new catalogue profiling the new Aviation Archive programme, which will be sent out to all our current subscribes, also has several new additions to this charming series. You will note especially they include even more detailed features, bringing further realism to the collection.
Tags: Aviation
---