It may come as a surprise, but Sylvanian Families, one of the most enduring and unusual toys of the eighties, were created as computer game stars by Japanese company Epoch, alongside Doraemon, the robot cat, who also starred in his own computer games. However, when Epoch launched the flocked toy animals in 1985, they could have had little idea of how popular they'd become, or how long-lived their success would be.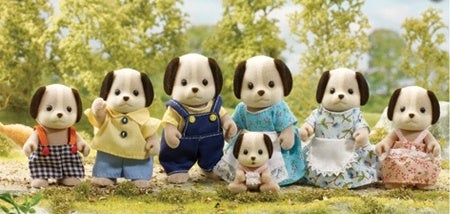 "Sylvan" is defined as "being of the forest" and each Sylvanian family consisted of anthromorphised woodland creatures, including rabbits, bears, mice, hedgehogs and others - although the range rapidly expanded to include non-woodland animals like monkeys, koalas, penguins and meerkats. Just a couple of inches tall, the creatures were made of plastic, flocked to give them fur and dressed in a sedate and pastoral near-1950's style which appealed to both parents' sense of nostalgia and childrens' sense of magic. A vast range of accessories, including houses, a car, a vintage-style caravan, woodland playsets, the famous giant hotel set and much much more followed.
Launched concurrently in the US and Japan (albeit with different packaging), by 1987 the Sylvanian Families had conquered Europe, with their own animated series and a very popular stop-motion series being produced in the UK, plus, of course, the computer games from Epoch of which there were six, including three for the classic Game Boy console. There were also "Toy of the Year" Awards from the British Association of Toy Retailers won in 1987, 1988 and 1989. They hit s slight speed bump in 1993, when Tomy, worldwide distributor of the toys, lost the US and Canadian rights to the name "Sylvanian Families" resulting in the toys being marketed there as "Calico Critters" instead - a name they retain in those territories to this day.
By the time the 2000s rolled around, the Sylvanian Families popularity in the UK had waned and the range discontinued there. However, a rediscovery and resurgence followed a couple of years later under new distributor Flair, who we also have to thank for other toy classics such as Etch-A-Sketch of Plasticine remaining on the UK market. Similarly, in the US, the Calico Critters line was picked up by International Playthings when dropped by Tomy.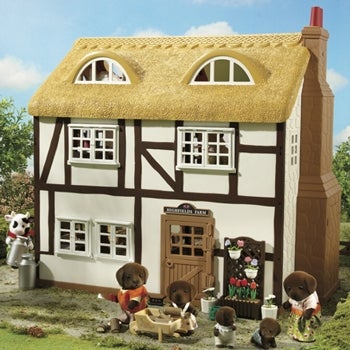 With the original issues now nearly 20 years old, vintage Sylvanian Families items have become very collectable - in particular, house sets and accessories with all the parts intact in the packaging are now extremely sought-after, while some collectors eagerly pursue mint-in-package items with different foreign-territory packaging to that used in their home country. Combined with a new generation of children eagerly discovering the little creatures' magical world, this fuelled a new Sylvanian boom and in 2007, the range marked the 20th anniversary of its UK introduction with some new items, including a boat for the Otter family and a family of Dalmatians wearing "Happy 20th" party hats.
Some five years later, the range is still going strong as the first generation of children who played with the original toys now look to introduce their children to them. Indeed, many parents now feel that the gentle and happy world inhabited by the creatures provides a welcome counterpoint to toys, games and online experiences that many parents feel are too violent, over-technological and force children to grow up too quickly - and that's a perennial which will likely keep the Sylvanian Families around on our shelves and in our toy cupboards for a long time yet!
---