Since images of them battling the disaster at the Fukushima nuclear power plant were beamed round the world on 18/03/2011, models of Japanese fire engines have commanded special attention from collectors.
In small-scale, there exists no consistent exact scale to which small-scale fire engines are made, although many are N-Gauge in railway modelling terms (in Europe, N-Gauge is 1/160, while in Japan, this is 1/150). Tomy, makers of by far the most models of Japanese fire-engines, has come out with models in a variety of exact scales, depending on the size of the actual vehicle in respect to the standard Tomy box size. Hard to find in Europe, and prized by collectors, the detail and quality of these little trucks is outstanding. The wheels, extending ladders and turning hose nozzles are particularly notable. Thanks to their huge popularity, Fire Engine Freak announced a special two-pack set, featuring the Hino and Isuzu shown here.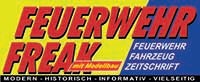 FIRE-BRIGADE FREAK is a magazine aimed at collectors and builders of fire-fighting vehicle models. It has a particular focus on the development of new and special fire-fighting vehicles and models of them, showcasing newly-released models as well as historical ones, events etc. It is published four times a year and can be subscribed to directly or bought at retail.
http://www.scholzverlag.de/feuerwehrfreak.html
Tags: Vehicles
---