Natural Rubber?
For the new collector of rubber toys, defining the parameters of your collection early is important. It helps keep you focused. It saves you money. It just makes things more simple when you can look at a table covered with toys and see at a glance that there is nothing you need.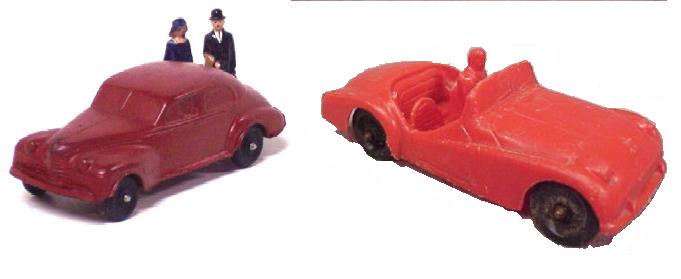 The most obvious eliminator is, "Is it rubber?" If all you see is bright, shiny hard plastic, or stamped steel or pot metal, you know you can move along. If, on the other hand, you see a "rubber" vehicle, do you just look to see if it is one you already have? Or, is it more complicated than that?
When I first started looking at rubber vehicles on eBay, I was very excited by the great number and variety of toys up for auction. At the same time, I knew there was no way I could have a complete collection of all makers' rubber toys. There are just too many! Plus, everything has to earn a place among my antique typewriters, the main collectible in the Mellow 60s Workshop. So, I looked more closely and seemed to see something that offered an opportunity to narrow the field. I saw what looked like natural rubber vehicles, and ... something else.
Initially, the introduction to rubber toy vehicles preceding this blog entry (it's still growing) tried to focus on toy vehicles made from natural rubber. That quickly proved to be impossible for most if not all of the rubber toy vehicle manufacturers used natural rubber, synthetic rubber, and vinyl at different points in their history. Determining which is which has proven to be a difficult task!
This part of the Rubber Toys blog will attempt to define these materials and show how they were used by toymakers. I hope it will help fellow rubber toy vehicle collectors decide whether or not a particular car or truck or other vehicle fits the parameters of their collections. I also hope there will be crossover interest to platic toy collectors. Because it is a complex subject and somewhat technical in nature, the work will proceed at a pace matching my learning curve (I'm no chemist). But, I hope you will find it as interesting as I do and that you will check here, and the earlier introduction to rubber toy vehicles, often.
As always, I encourage readers to comment freely, sharing opinions and expertise, providing links to pertinent materials, and offering for sale books, papers and ephemera relating to these toys and their production.
When I first began collecting rubber vehicles, I thought rubber was a relatively recent discovery, perhaps a sibling of the automobile. Not so! By 1844, when Charles Goodyear's accidental discovery of vulcanization made use of rubber practical for year round applications in tires, household goods, weatherproof clothing and other items, many hundreds of years had passed since European explorers first observed natives of the Americas using a sticky, elastic substance taken from trees for balls, footwear and weatherproofing apparel. It was called caoutchouc, a transliteration derived from the native word meaning "weeping wood." It is pronounced kau-tchuk.
Caoutchouc aroused little interest in Spain or anywhere else for nearly 350 years. The problem with rubber was, it became soft and sticky in summer, hard and stiff in winter. Efforts to find practical use of the odd gum from Mexico bounced around for a couple hundred years until, in 1770, Joseph Priestly disovered that it made a fine eraser. As Priestly was one of the founders of chemistry and the discoverer of oxygen, this was a very practical and successful finding. It was Priestly who named the material "rubber".
Goodyear's vulcanizing process flung wide the door to opportunity, and fortunes began to be made. For our purposes, what is important to note is that 1844 was about ninety years before the first toy vehicles rolled popped out of a moulds at Auburn and Sun!
The August 16, 1920 issue of "The Mentor" was devoted entirely to telling the story of rubber. In it the author, Peter Philip Pinto, noted that, "Akron, the rubber metropolis of the world -- where more than 75% of the tires and 41% of all rubber goods in (the United States) are manufactured -- is now a city of 208,000, whereas, ten years ago, it had a population of about 69,000." This growth is credited almost entirely to the growth of the rubber industry.
Pinto continues, saying that in Akron "every conceivable kind of rubber article" is manufactured, and that Akron is home to "the largest number of companies, devoted to rubber manufacturing, in the world." Because many toys already were being made from rubber products, it was only a matter of time before somebody came up with the idea of manufacturing rubber toy vehicles in the Akron area.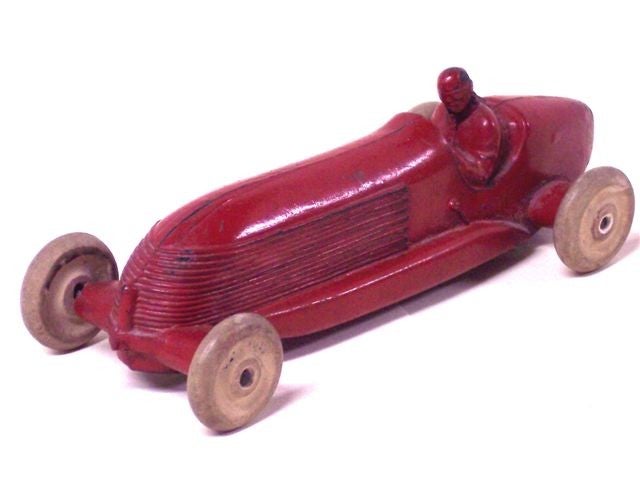 In the mid-1920s, The Sun Rubber Company and Seiberling Latex Products did just that, establishing their operations in an Akron suburb now synonymous with rubber toy cars and trucks: Barberton, Ohio. Not far off in Mansfield, the Perfect Rubber Company undertook the manufacture of their rubber vehicles, as did The Barr Rubber Products Company in Sandusky. The Auburn Rubber Company began producing rubber toy cars and trucks in Auburn, Indiana -- little more than 240 miles to the west. This area became the locus of production for these delightful cars, trucks, planes, ships, trains, figures and more.
Note to readers: I have every intention of adding quite a bit of material to this in time. I'm reading several books that are fascinating but challenging as well. When I have a better grasp on the various materials and their production I will be back to wrap this up. I hope you will check again. Also, any reading you recommend will be very welcome.
Mellow60s (John in Texas)
Tags: Figures and Toy Soldiers, Vehicles, Boats and Ships, Aviation
---