While at Sandown Park on Saturday, we whizzed round to see what the auctioneers all had on display from their upcoming sales:
Astons had a mouth-watering array of fantastic items. To start with, there was this mega-rare James Bond Attache Case, complete with all the accessories AND the box!
They also had a selection of fantastic Spot-On trucks and coaches, and some minty-looking Shackleton Fodens: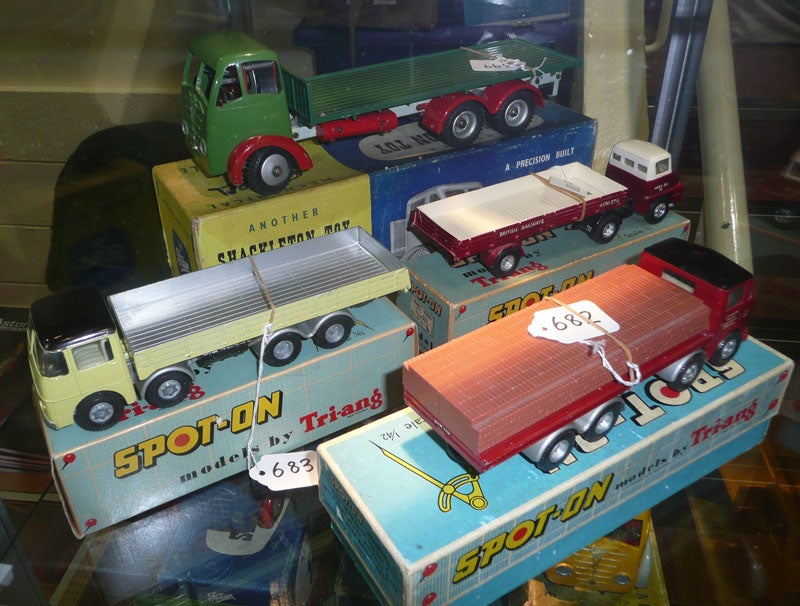 And rounded things off with some wonderful Victory Industries cars and trucks, including this pair of MGs:
Not to be outdone, Vectis brought in several armies worth of Britains soldiers in lead and plastic, plus some civilian backup too!
Not to mention some wonderful tinplate Hornby trains:
TV tie-in Toys including more Bond, Dr Who's K9, Enemy Visitor V, Batman and more:
And some Dinkies in rare colours and perfect condition!
Wallis & Wallis, meanwhile, took to the skies with some lovely airline travel agent promo models, including the incomparable Concorde!
And some lovely prints and Dinky sets:
Including the VHTF Car Carrier & Trailer set mint and boxed...
And a late Police Vehicles Gift Set and rare Lucas Oil Foden tanker!
- LaToya
---