By Doug Breithaupt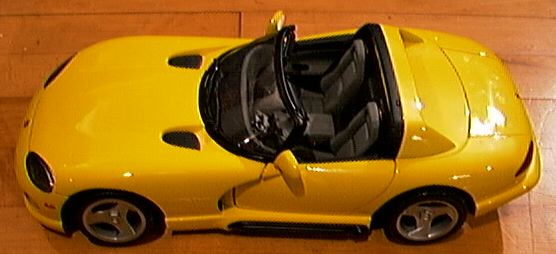 Who can resist Dodge's wonderful nomination for the ultimate American sports car. The Viper started as a Cobra for the 1990's but it has become much more. True racing success with the GTS-R and serious competition for the Corvette have provided Chrysler with a proven winner. Just seeing one on the road is a treat for any car lover.
Of course, most of us don't have the courage or the cash to actually own one of these V10 cruisers. One alternative is to collect the many Viper models and toys. Toy car collectors have enjoyed a wide variety of choices in every scale from 1:87 to 1:18. Thanks to Anson, we can now add the king of diecast scales, 1:12, to our Viper collections. If diecast cars were labeled like fine champagne, this would be the 'Methuselah' of the toy car world.
My personal collection contains one other 1:12 scale car, Maisto's Jaguar XJ220. While I love the amazing detail provided in this scale, the great dilemma is where to display these monsters! These are BIG. my 4 year-old son (below) agreed to pose with the Viper so the real size can be observed. Offered in 'fly' yellow, the Viper roadster looks even bigger.
Anson's Scale Viper Size in Relation
The quality of this model is excellent with all the expected treats. Everything opens and looks like it should. The interior looks ready to hop-in and take it for a drive. of course the steering wheel turns the front wheels and realistic 3-point seat belts are a nice touch. Under the massive hood is the Viper's amazing V10. The colors and accessories appear correct and a hood prop is included to allow for serious inspection and drooling. Working springs provide excellent suspension and the correct three-spoke wheels allow brake discs to be seen. headlights can be seen beneath their covers and the viper logos on the nose and tail are nicely done.
'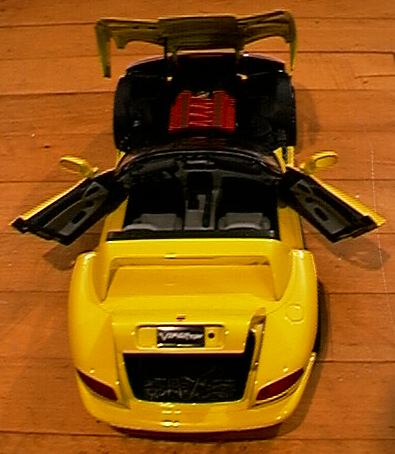 Anson's Scale Viper Back View
'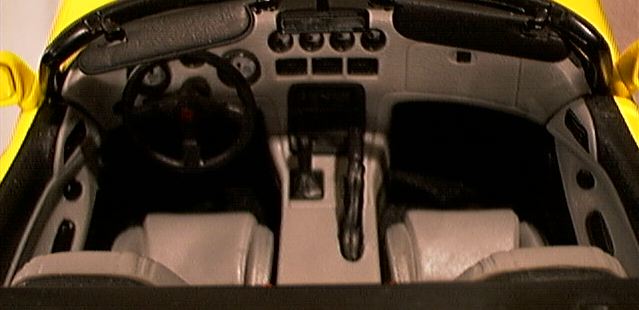 Anson's Scale Viper Interior
Anson's Scale Viper Engine

While Viper experts might find small details for more critical comment, as a whole, Anson has produced another high-quality winner. Since it comes from Anson, collectors can also be sure that the price will be right too. Few diecast manufacturers produce a better mix of quality and value. Future versions could include the Indy Pace Car replica and perhaps even a re-tooled GTS coupe. If you have a Viper lover on your Christmas list, here is a sure-fire winner to put under the tree.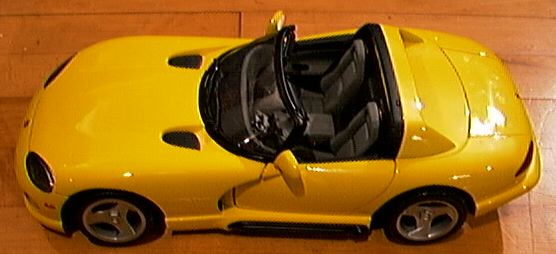 Anson's Scale Viper Side View
Tags: Tales of Toy Cars, Vehicles
---