In my previous two articles: Modern European Outline O Gauge Trains: What's Happening Today? and Modern European 0- Gauge Trains: A Look at the Continent, I reviewed three companies that produce replica and Märklin styled 0 gauge trains.
Darstaed of Zug, Switzerland, addressed in … What's Happening Today?, produced and expanded the range of Märklin's #1941 series of 40 cm passenger, baggage, and postal wagons to 31 types of wagons from the late 60's until 1987. These are beautiful passenger train coaches and wagons and, like the Hehr replica 40 cm coaches, are highly sought after. The new Darstaed40 cm coaches, made by Andries Grabowsky in Bangkok, Thailand, are expected to be produced in 2011.
DEÁK of Budapest, Hungary, produces a range of replica and Märklin styled freight wagons. ZANKA, of the Czech Republic, produces robust freight wagons in the style of Märklin. The reader is invited to review these two articles for further information on the products of these three companies.
In the course of my research on the Märklin-styled Henschel-Wegmann train sets, discussed in the section on Hobby Haas, not only did I discover that Herr Bernd Hess of Borchen, Germany has two of the rare Henschel-Wegman train sets, but that he is starting to produce 0 gauge trains in the style of Märklin also. His first, a model of the V 20 diesel, 2 axle rodgear, shunting engine, is currently sold out but Herr Hess does intend to make another series in late 2011.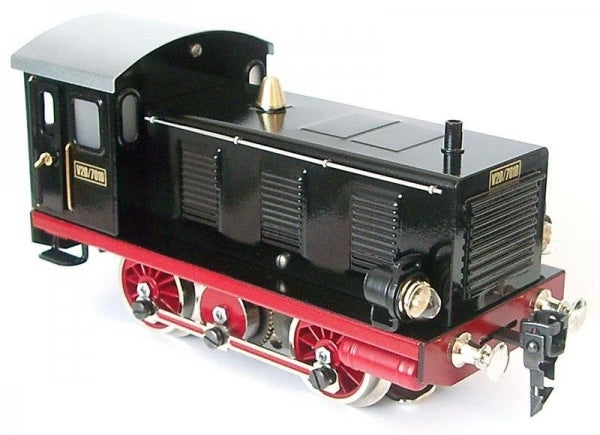 Hess V20 diesel (Photo courtesy of Bernd Hess)
Herr Hess can be contacted at the following addresses:
Bernd Hess
Eichenweg 59b
33178 Borchen, Germany
Tel. + 49 (0) 5251 8784404
E-Mail: bhnullks@arcor.de
Next: Summary, Acknowledgements and ReferencesThere are several other firms that produce a very small number of replica and Märklin styled 0 gauge trains. I have a couple freight wagons stamped "JLG" and have seen wagons stamped "HM". I have a smooth running model BR 62 tank locomotive that is one of three models built by the craftsman. These items occassionally appear on the German eBay site. Further research is necessary to be able to write an article on these lesser known names.
Next: Summary, Acknowledgements and References
Tags: Tinplate Trains
---