Following on from a very successful first release, Thomas Gunn Miniatures are proud to announce three more SS/Tropical Hermann Goring sets in all action poses.
SS003 comprises of 5cm mortar with three crew members, SS004 is a two man MG34 set and GC004 is a single figure MG34 Gunner. Available in two versions with two hundred sets available in Normandy SS colour schemes and one hundred sets available in Hermann Goring Tropical colour scheme, these pieces are bound to be very popular with collectors.
History of the 5cm Mortar
Development of the 5cm mortar started in 1934 and was adopted for service in 1936, with the intended role of engaging enemy positions that were beyond hand grenade throwing range. The weapon was used as a platoon mortar in each standard German infantry platoon. Considered by many to fire too light a bomb with too short a range, the 5cm mortar still continued to be popular simply by the fact thatwas easily transportable by two men and provided the platowith a hitting power and range capability greater than any other weapon available at the section or company level. Although production cased in 1941 the weapon continued to be used right up until the war's end in 1945.
History of the MG 34
The MG 34 was first produced and accepted into service in 1934, it was an air cooled machine gun firing a 7.92mm cartridge. The weapon was designed to perform both as a light machine gun and also a general purpose machine gun in the heavy role. In the light machine gun role it was equipped with a bipod and a fifty round ammunition drum magazine but usually fitted with a belt attached to the receiver. In theheavy role it was mounted on a tripod and belt fed. The MG 34 isconsidered by many to be the clmedium support infantry weapon of all time.
S003 comes with two figures, one firing from the hip whilst his number two ensures a steady flow of ammo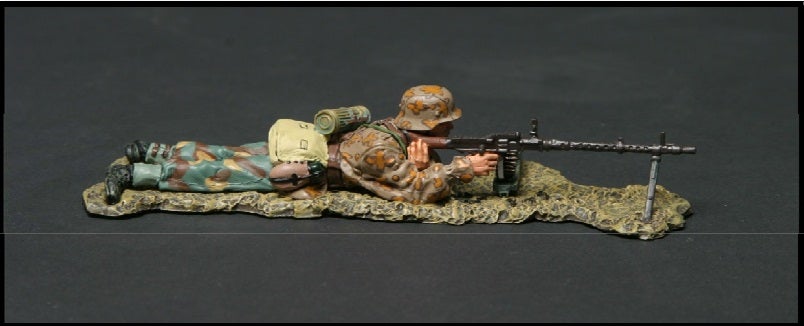 GC004 A firing the MG 34 in the light machine gun mode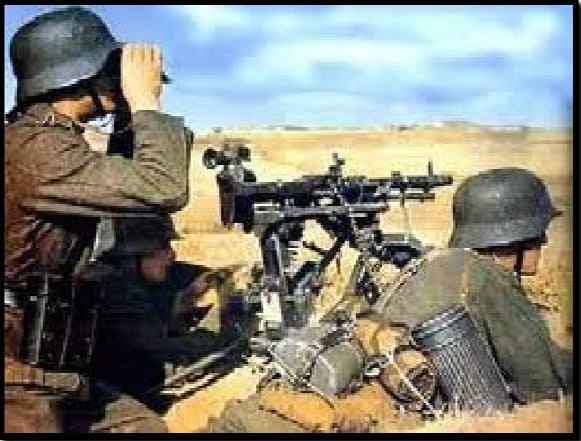 MG 34 in the heavy machine gun role
Tags: Military, Figures and Toy Soldiers
---