The foundations of how I have become involved with and owning the Helmet model aircraft business go back to 2000 when suddenly at the age of 50 I found myself made redundant due to the closure of the brewing company for whom I had worked for since the age of 16 and where I ended up in the latter years looking after the IT Infrastructure and the decision having to be made on where did I go from there., The conclusion I came to was that whilst I had enjoyed more or less every moment of my working life, the time had come for a complete change and that I really didn't want to work 10-12 hours a day any more nor in fact did working for another company and starting all over again really appeal at all. So I decided that I would set myself up with my own Computer Services business which would provide an income whilst allowing me to be in control of how much time and effort I wanted to put into this business venture and other areas of my life.
So there it was the perfect solution, nice little working environment and time left for the occasional weekend away over in France, exploring Normandy and it's History (something which I had developed an interest in over the years from William the Conqueror through to the D-Day landings, not to mention the French style of life and of course it's food and wine.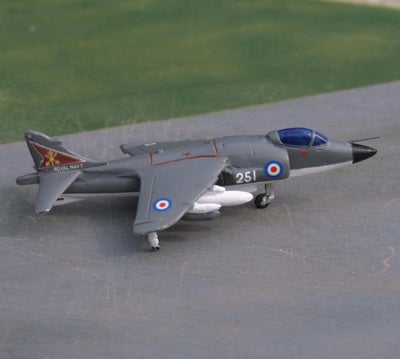 Then by chance at Christmas of that Year my eldest son gave me a model of a Corgi Lancaster, with the words 'I thought you might like this as you are always looking at the model aircraft in the Museum Shops when we have been over in France'.
Now during my childhood in the fifties and early sixties I, like most other boys of that era, had collected and played with Dinky toys and made Airfix models but of course as one gets older you grow out of such things as other seemingly more exciting interests are discovered and yet here all of a sudden there presented before me was this beautiful model aeroplane model and an awakening of childhood memories and the pleasure of times gone by.

What more could one do but embrace this opportunity and so a new interest in collecting model aircraft was born.
Initially my interest was solely with just the Corgi range of model aircraft and my collection grew to such an extent that the cabinet I had purchased to display them had long become full and the surplus were being stored in various vacant cupboards throughout the house.

Then on a visit to a specialist die-cast aircraft model shop (which I had discovered on the internet ) in an attempt to procure a particular model I just had to have for my collection I noticed they had a display of smaller scale aircraft that appeared quite interesting due to the varied range that was on offer, not only were there airliners of every type under the sun but also a Blackburn Beverly and HP Hastings (yet more memories aroused from my childhood years and visits to the local air shows) which particularly took my interest. I just had to know more.! After a long discussion with the owner of the shop it transpired that these were 1:200 scale and I was also told that whilst the Corgi Models were splendid examples the 1:200 scale models were aimed at the more discerning model aircraft collector.
That was it, if there was one thing I was, it was definitely a discerning model aircraft collector and so my interest in 1:200 scale was conceived and I left the shop with two or three examples which were of particular interest.
Well the collection of this new found scale grew slowly to say the least as I extensively searched the internet and other sources for aircraft of the types that were of interest, mainly World War II military aircraft, and eventually realised that the options available seemed to some extent limited. Yes, there was an abundance of modern day airliners but could I find a Lancaster or a Spitfire no chance and every model aircraft collection whatever scale needs a Spitfire and a Lancaster.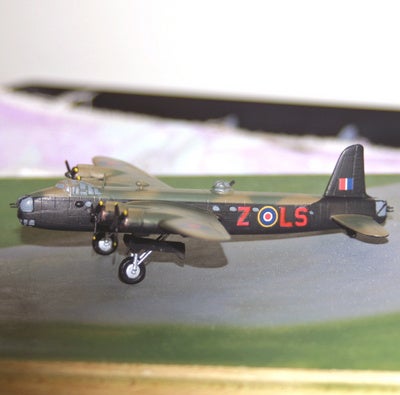 Then out of the blue during one of my trawls through the Internet I came across an article from Avia Mini News relating to 1:200 scale model aircraft and developments and availability within this range of models, and there were several references to all types of military and civil aircraft.
Unfortunately it was dated 1997 and now it was 2002. However there was a name and address and telephone number of one of the suppliers, and on the outside chance that it may prove helpful I telephoned them and could not believe my luck that they were not only still in business but also provided names and telephone numbers of several similar cottage industry suppliers who may be able to help me, not only that but during this conversation I also discovered that not only were the items available as finished models but also in Kit form.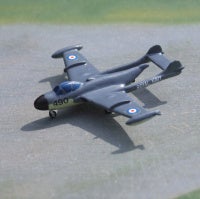 Up until then I had not considered kits but here was something new not only could I have the models I was seeking but I could also finish them as I wanted to and so this little past-time of mine had taken another twist which would surely give me far greater satisfaction than just buying models and displaying them in a cabinet.
And so a variety of kits were ordered from a number of suppliers and I was in seventh heaven with a very rewarding pastime in building these models, That was until early last year when I discovered that one of these suppliers, Dennis Knight of Helmet Miniature Aircraft Models from whom I had bought many models and kits, had decided that having reached his late seventies was going to retire and try to sell his business.
Bad news if ever there was as far as I was concerned but it made me start to think as to whether this may be an opportunity for a career change and do something for a living that would be a completely new challenge and I would enjoy, as I certainly wasn't happy with the ways things were going with the computer business, it was getting really difficult to find new customers and by the day I getting disillusioned with the way the computer industry was going. So after much contemplation and a deep and meaningful discussion with one of my oldest and dearest friends who is an accountant the decision was made that further enquiries regarding this matter should be made, not only that but she would join me in this venture if the acquisition seemed viable and was successful.
So after conversations with owners of similar types of businesses, with whom I had become acquainted, to get the feel of what we could expect from such a business and their generous offer of unlimited help if I needed it and a couple of visits to see Dennis to see what we would be buying the decision was made and we became the proud owners of the Helmet Business in July of last year, with my friend and now co -owner Ann looking after the necessary administrative aspects of the business, allowing me to concentrate on developing the modelling and sales.
And here we are just over a year on from that momentous day and I have to say although the past year has been a challenge in not only attempting to rejuvenate what was more or less a defunct business but also to introduce the aspect of trading into the 21st Century has really been rewarding. The most satisfying of which must be the decision to offer our models finished to the customers own specifications rather than just a standard set of finishes at no additional cost. This has led me to meet, talk to or correspond with many people, who have asked us to make models of aircraft they flew or were associated with and not only hear the fascinating stories which seems accompany each request but also to receive their thanks for doing this for them.
Of course by no means do we feel that our work is done and we have many plans for the future of which the main one must be to further establish that fact that the past time of collecting 1:200 scale model aircraft is alive and kicking and introducing the younger collectors of such models to the merits and availability of this scale. Not only this but amongst other ideas we have we realise there is an ongoing need to expand and enhance our current portfolio to ensure it meets the high standards expected by modellers and collectors today.
Now we are a small business based in Oxfordshire, United Kingdom and trading worldwide specialising in producing and selling 1:200 Scale model aircraft. And more importantly, we believe that our range of approximately two hundred 1:200 scale metal or resin models and kits captures the very essence of aviation evolution from World War I through to the Present Day.
This range not only includes our own products but also Richard Bizley's Eclipse series of modern day jets as both models and kits and a selection from Ron Crawford's range of HBM Models as 'Limited Editions' completed by ourselves with metal fittings (propellers, wheels and ancillary items) as appropriate.
Our models are all hand painted and finished with the finest of detail here in the United Kingdom, on an order by order basis. Although this means that the availability of our models off the shelf is limited, it allows us to offer our customers the opportunity of either selecting their preferred finish either from an appropriate suggested list, or for those looking for something special, a model finished to the customers own specification at no extra cost.
Our kits are supplied complete with propellers, wheels and accessories (bombs, missiles, tanks, figures etc) as appropriate and in many instances decals allowing you to complete your model successfully.

On occasions a costumer was looking for a model of a particular aircraft that did not exist, so we just produce them!
---