Located in Hamburg, Germany, Miniatur Wunderland is the largest model railway in the world, covering almost 6,500 square metres of floorspace, and with 12,000 metres of H0 Gauge track. Once the next construction phase is finished in 2015, it is planned that these numbers will rise to 10,000 and 20,000 respectively! But the Wunderland is far more than most model railways, as the setup features buildings, landscape, vehicles, figures, ships and a whole wealth of incredibly rendered detail throughout. Miniatur Wunderland depicts real countries in small scale and currently covers Germany, America, Scandinavia and Switzerland - France, Italy and the UK are on the way.
'  
'  
'  
Miniatur Wunderland is the brainchild of Frederik Braun who, together with his brother Gerrit, still runs Miniatur Wunderland today. Toy Collector caught up with him to discuss his wonderful Wunderland and find out how he came up with the idea for it - and what's in its future!
'  
TC: How and when did you get the idea to create Miniatur Wunderland?
FB: I got the idea in summer 2000. Myself and my brother Gerrit owned a night club and a record label. I did not want to get old working the nightlife, so I was looking for new ideas. And I found the idea, which changed my life, when I was with my wife Sandra in Zurich and visited a model railway shop. I remembered a childhood dream "to build the world largest model railway". That was the birth of my new life.
TC: Once you had the idea, how did you go about getting started and how long did it take to get from having the idea to opening the Miniatur Wunderland? What was the most difficult aspect of setting it up?
FB: At first, it was very difficult. When I told my brother Gerrit about this idea, he thought I was kidding him, or I had a sunstroke. As did everyone else I told about my idea. Most people said, I should use my money in a more sensible way. Fortunately, I was eventually able to convince Gerrit, my father Jochen, our long-time partner Stephan, as well as a bank consultant of my idea.
'  
TC: Approximately how many individual models are used to create the Wunderland? Do you exclusively use models from particular companies? How do you choose which models to use and include in the display?
FB: We have thousands of buildings, trains, cars, ships, and other constructions. Many of them, we meticulously handcrafted ourselves. Of course, we also used a lot of off-the-shelf model kits. We deliberately decided to buy from as many model manufacturers as possible, in order to offer a large variety to our visitors, and to insure our own independence.
TC: Do you have a favourite part of the Miniatur Wunderland? Is there anything on it that you are particularly proud of?
FB: In the past few years, the newest layouts were always my favourites. It's still the same today. Switzerland turned out great. Our mountains, six meters high, ranging over two storeys, are offering an unparalleled three-dimensional recreation. I'm fascinated again and again by what our model makers are creating. Before I give you a definitive answer, let's wait for my feeling once the new airport layout is finished!
TC: What do you think is the most intricately detailed or technologically advanced model on the layout? What has been the most difficult thing to get right?
FB: That's a difficult question! It took over 500,000 working hours to create thousands of tiny details - a true labour of love. I cannot single out any of them. Moreover, it's all of them as a whole, which makes Wunderland so unique.
'  
TC: How many people work on the Miniatur Wunderland and what sort of jobs do they do? How many people does it take to operate the Wunderland on a day-to-day basis?
FB: We have about 200 employees. Our team brings together many very different people. It includes everyone from an 18-year-old art student to a 75-year-old model maker veteran. Variety is the key, and not only in this area.
TC: What are your plans for the future development for the Miniatur Wunderland? Will you continue adding to it? How big would you like it to grow to be eventually?
FB: If we were to realize all the ideas we currently have, we would probably still be building in 50 years. We have already planned are the airport layouts for, France, Italy, and England in the upcoming years. I cannot say, what will follow then. What I can definitely say is: we do not intend to quit...
'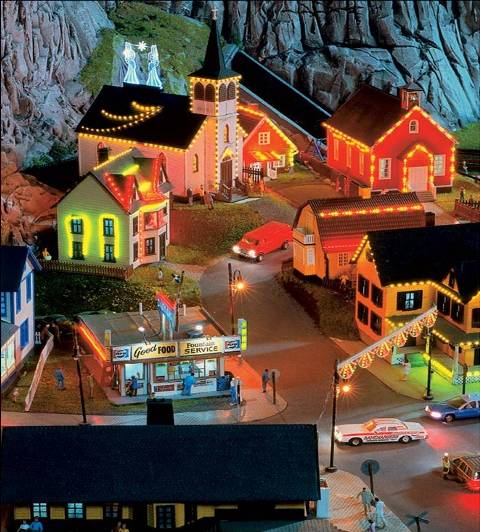 TC: How many visitors do you have every year?
FB: We have 1,000,000 visitors each year.
TC: Do you plan to build other versions of Miniatur Wunderland elsewhere in the world like, for example, LegoLand has done?
FB: We have offers from all around the world. So far we have refused, as we want to concentrate on our lives and work in our beloved hometown of Hamburg. If someone comes along, who understands our funny little ways 100%, and for whom this is not only an investment, I would consider a branch of Miniatur Wunderland in the far future. But for the moment, this is not a concrete plan.
'  
Many thanks to Frederik for taking the time to talk to us. If you're in Hamburg, a visit to Miniatur Wunderland is an absolute must. You can find out more about it - including directions and opening times - at www.miniatur-wunderland.com.
'  
'  
Tags: Construction , Dream Toy Jobs, Trains
---