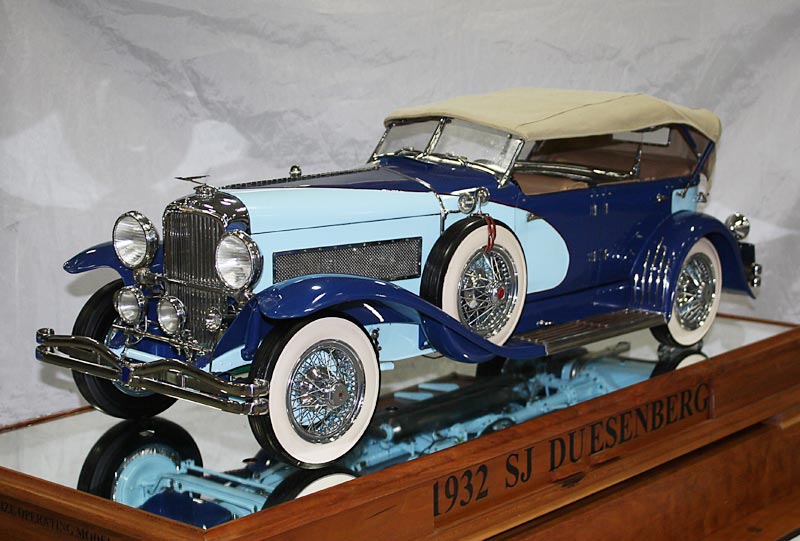 1/6 scale 1932 Duesenberg SJ-Louis Chenot
Every year for the past five years or so at the NAMES show in Detroit and now Toledo, one of the first things many people who attend the show each year want to see is how Lou Chenot is coming along on the Duesenberg project. Most of us, therefore, see the project in one-year jumps with new major components showing up each time. But keep in mind it took a year of work on Lou's part to bring the car to the next stage. As the project continues to take shape with the engine near completion and the bodywork beginning to take shape, we thought it would be fun to bring the rest of you up to date on Lou's work and then to follow along as he completes this ambitious project. Like the other projects featured in the "Model Engineering Masterpieces" section, this is not just a model car, but rather a complete car in miniature. The engine has now been successfully run and just about every feature that worked on the real car will work on the miniature version. A project like this requires the mastery of so many skills that we have created a special category for them. Take a look at what Lou has built so far and follow along as the project progresses to see what it takes to create a miniature masterpiece.
These photos of the installed engine, dash and driveline were taken at the 2007 NAMES show.
The Duesenberg Project
3/4 view of the chassis, 1/6 scale so it is about 38 in. long and weighs 40 lb. This scale results in an engine of about 2 cu. in displacement. Square and cubic laws change things dramatically. 6 cubed is 216 and divided into 420 in (full size) is about 2 cu. in. Frictions are much higher than full size, but somewhat compensated by lower inertia.
Engine exhaust side with its beautiful 8 branch manifold. Carburetors have barrel throttles, the front one has a small Venturi for idling, and the rear most a much larger one progressively linked. The barrels move outward when rotated to open their jets farther for acceleration. The intended fuel is propane. (Non-scale fuel lines can be seen leading off the engine.)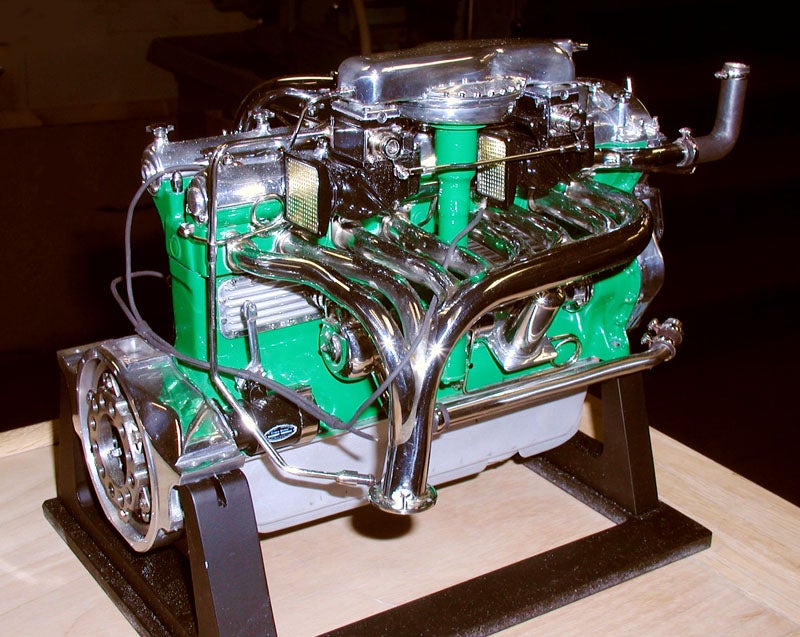 Underside-I like this photo.
Trial assembly, fitting on frame front is attachment for a rotary fixture.
The block after 4-5 weeks of attention. Most components in the model are of the same material existing in the prototype, hence cast iron here. It was decided to fit cylinder liners in order to cut water passages. Liners were turned from Cummins diesel engine valve guides, a very tough grey iron. Piston rings are also from Cummins valve guides. Two compression rings (.025 thick) and one oil ring (.040 thick) were made.
Internal components for the block. Its crankshaft is 4130 steel; a drive extension is installed to run in bearings which are .010 silver, also used in connecting rod big ends. Bronze bushes are fitted to the pin.
Rear axle with components. The differential contains 4 bevel gears which are hidden inside their cage. Many trials were required to cut the ring and pinion. Hypoid gear cutting requires solving equations for 13 degrees of freedom if a Gleason machine is available (a little one)! Only trial and error and finally filing tooth entry profiles could be used in my shop. The banjo housing is cut from 1 piece of steel.
A T-72 Warner transmission in 1/6 scale. Designing such an assembly is a good example of nature not being very scalable. Dividing full size bearings by 6 doesn't agree with any listing of miniature bearings, therefore bores and shaft diameters are changed as necessary. This cannot be allowed to interfere with the gears kept to 1/6 scale exactly so the centers and ratios are correct. Full size diametrical pitches are multiplied by 6 from which the small gears are calculated. Special cutters had to be made at 60 Dp and 48 Dp along with a shaving tool for the compound set of internal gears used in the second gear position.
Bumpers required about a week, half of which time was to prepare stainless steel and make bending jigs, forms and a fixture to keep the bolt centers exact. All bending was at red heat and even then, stainless will still have springback to complicate the issue.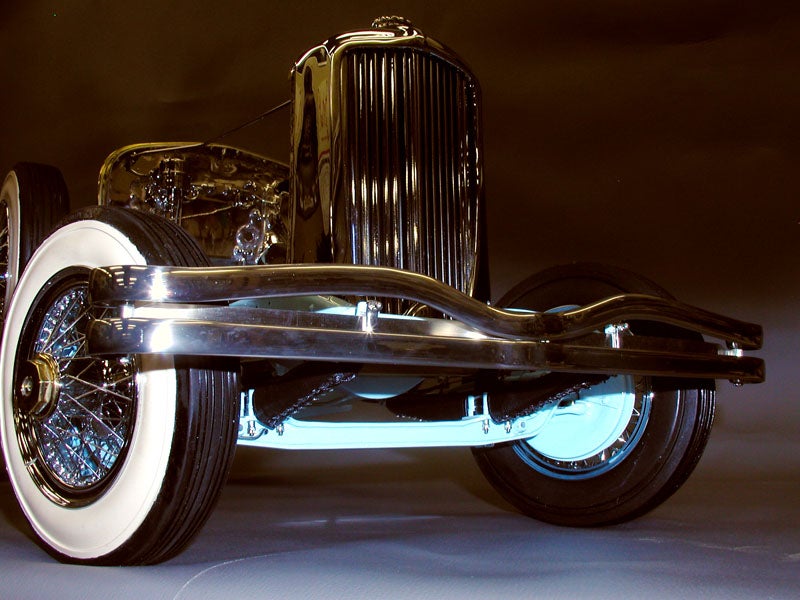 Radiator shell from brass sheet. Bent over a cherrywood buck, or form, with a rawhide mallet, then a plannishing hammer, filed, sanded and polished, then chromed. Not being experienced in this skill, I ruined 8 blanks before finishing this one. Hopefully the fenders will not require the same experience!
Intake manifold mounted for fitting on engine.
Initial sheet metal fitting to chassis.
Leather upholstery consists of one entire goatskin sewn as per full scale. In making the interior parts, allowances had to be made for the thickness of the upholstery. The body is still in primer and will have to be completely disassembled for painting later in the year. Some parts still remain to be chromed.
At the 2010 NAMES show, the model was finally shown in complete and painted form. The engine was not installed at the time, as it has just been successfully run on the test stand. All components have now been completed and further work is scheduled to be done on the engine to get it to run on gas instead of the propane first used to test run it. The two-tone blue car is every bit the masterpiece the original cars were with the additional challenge of building each part in miniature.
Lou Chenot's shop is well equipped for model work including a 12-inch lathe that is 24 years old, modified in many ways, that is very accurate. A Bridgeport type mill is installed which friends think is silly because it runs 1/16" cutters very often. Many auxiliaries were built including a horizontal and vertical index table (4"), tube benders from 1/16 to 1/4 x 1/32", a Quorn tool and cutter grinder and a 1 x 42" belt sander that is used daily if not hourly. Other machines are there but rarely used, such as a 7" South Bend shaper and a 7-inch Atlas horizontal mill, but they are restored and look pretty! This shop area occupies about 800 square feet and is carpeted. It is nice to have built-in custodial service in the form of his wife, June, who also is the chief cook, gardener/landscaper, secretary/typist and finds time to enjoy her garden railroad and the little white American Eskimo dog they adopted from their son.
The back shop (dirty area) was designed for woodworking equipment, welding, investment casting, blasting, garden railroad work area and stores the lawn tractor in heated/air-conditioned comfort along with a full size Continental aircraft engine. It is about 1500 square feet.
You will find Lou in his shop seven days a week, 8-10 hours per day and looking forward to each and every one of them.
Don't miss the chance to see more of his work and a detailed biograpghy here.
Tags: Other Stuff, Vehicles
---