This is a brief guide to collecting Del Prado and other partwork toy soldiers. As with my other entries this article was first published in eBay's Reviews & Guides section and LaToya suggested posting it here too.
Partworks have been popular in Spain, Italy and France for a long time but its seems they have really caught on in the UK in recent years as well now. My interest is both personal and professional. I collect figures as a hobby and I also sell them in my eBay toy soldier shop: Drum & Flag.
What is a partwork? Well the format is simple - backed by heavy initial TV advertising, usually in January, partwork publishers offer heavily discounted booklets and attached related collectables. Collectors then sign up and receive usually 50 to 100 volumes every couple of weeks, over several years, at full-price mailed to them directly or ordered via a local newsagent. Extra limited editions and free gifts are also usually offered up front to hook your interest and again some way into the subscription to maintain demand. Many things are offered via partworks such as DVD's, ornaments, kit parts, soft toys and of interest here - toy soldiers.
Del Prado are the best known name in the UK in this field at present but there are many other publishers such as Altaya (Spanish) , Hachette (French) and De Agostini (Italian). Next time you are on holiday in one of these Mediterranean countries pop into any newsagents and you will see swathes of products from these firms.
The Men-at-War Series was the first toy soldier partwork on the scene in the UK to make an impact. One minute you are dying of boredom sitting through post-Christmas furniture sale and holiday TV adverts and the next thing you know some fantastic toy soldiers and Osprey booklets are being presented on national TV at excellent prices! You pop down your local WH Smith, realise the commercial was not a dream and snap up the first edition from the big promotional bins and away you go.
Men-at-War #98 Coldstream Guardsman, #92 Korean War MP and #58 'Tommy' on the Somme.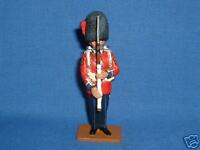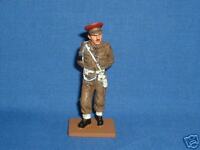 If you are looking to buy Men-at-War figures many eBay traders sell them as I do in my eBay store. (See: Men-at-War Figure Range ). Also worth a visit if you just want to see what the figures look like or to research the missing numbers in your collection.
Del Prado soon realised they had hit a winning formula extending the Men-at-War Series from 75 to 100 editions and following it up with the even better Napoleon-at-War Series. That too was extended to 100 editions and was joined by the Cavalry of the Napoleonic Wars Series. This mounted range ended at a whopping 120 issues. Display cabinet makers across the country had never had it so go and there was still more to come with the Medieval Warriors Series. (Click here to see some Medieval Warriors Listings and pictures). I believe both Men-at-War and Napoleon-at-War have been run again as well - some with different numbers to confuse us eBay buyers and sellers!
Del Prado Cavalry of the Napoleonic Wars #7 Sgt Ewart, Scots Greys
(To View More Cavalry of the Napoleonic Wars click here: DP CNW .)
eBay really comes into it's own with something like the Del Prado Collections. By their very nature they were not available to buy 'normally' in the shops and became instantly collectable. eBay provides an excellent outlet both for sellers who lose interest or need the space/money tied up in their collections and for buyers who may have missed the opportunity to subscribe to some or all of the partwork when it was live.
As is often the case with collectables all is not equal in the world of Del Prado figures. Some are frankly much more elaborate and better crafted than others attracting higher prices. Other numbers have far fewer in circulation than others - generally speaking the further on in the collection you go the fewer figures there are out there as people dropped their subscriptions. Another factor is the appeal of uniforms and nationalities. WWII Germans, British and to a lesser degree American figures sell very well in the UK but not so French or Russians or Italians. Napoleonic French by contrast go very well as do the British. Austrians, Prussians and Russian less so.
As extreme examples next time you are looking at figures compare prices achieved / charged for Men-at-War #1 (Commando) vs #98 (Coldstream Guard) or Napoleon-at-War #1 (Marine) vs #44 (95th Rifles).
Napoleon-at-War #91 KGL Sharpshooter, #95 Gordon Highlander and #44 95th Rifles Sgt.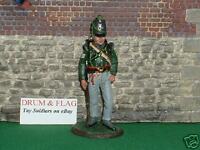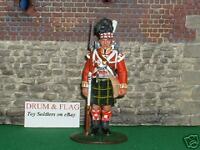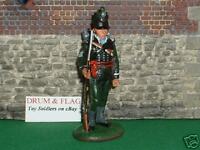 ( Click here for Napoleon-at-War )
Condition is of course another major factor. Figures sealed in their original packaging with booklets will regularly achieve much higher prices than loose figures. There are exceptions to this, particularly if you can trust a seller to send you a mint condition loose figure when that's what they are described as.
More recently Del Prado have moved onto Firemen, Samurai and Egyptians I believe in 60mm scale and also 28mm wargames figures. The Relive Waterloo series was released in the UK market and the figures I have seen were very well painted. In France I think the same Osprey booklets were used but translated into French and released in a different order. Some of the figures were also changed as was the name to Relive Austerlitz. I am sure I also saw a Relive D-Day series at some point but have not heard much about that. It could have been a pilot campaign that was dropped if it did not do too well. Obviously getting hold of rare figures from instances such as this can be interesting and potentially lucrative but that is mitigated by the risk of not having much of a market if not many folk are collecting it.
Away from Del Prado another good partwork released over the past few years was the Lord of the Rings Collectors Models series from Eaglemoss. This was done in 1:29 scale metal with lots of extras such as display plinths, a Cave Troll, a Warg, Gandalf on Shadowfax and an mounted Nazgul (or two if you can get the French one). At time of writing this series is still being issued by the publishers and is up to number 107 or so I believe. They have also issued a LOTR Chess collection with similar but different pieces.
Eaglemoss - Gandalf the White, Moria Goblin and Mounted Nazgul.

( Click for Lord of the Rings )
Still on a Lord of the Rings theme but on a smaller scale is the De Agostini Battle Games in Middle Earth (BGIME) partwork. This concluded in the summer of 2006 with issue 91. Subscribers received a pretty good hobby magazine (like a mini LOTR White Dwarf) plus either a metal figure or plastic sprue every two weeks - these being from the Games Workshop Lord of the Rings range. A few figures were released early to subscribers such as Theoden, Ugluk, Ghan-Buri-Ghan and the conversion sprue etc... but they swiftly became generally available via Games Workshop which was rather annoying as it blew their collectability somewhat!
Back with the larger scale figures De Agostini have released Ancient warriors, Romans and Artillery Through the Ages part works in Europe of late which have not seen the light of day in the UK. To find out more search eBay, including French, Spanish and Italian sites plus De Agostini's website(s).
If you do the same for Hachette and Altaya you will turn up other interesting ranges too. For example Hachette published a Marshalls of France partwork recently (in French) and more interestingly a Soldiers of the British Empire partwork with Hussars, Gurkhas, Zulu Wars Redcoats etc, but I think this may have been canned early as it seemed to disappear - shame figures looked nice. I think it was Altaya that launched a medieval knights range a few years ago but that too seemed to fade away - those figures were nice as well.
(nb - Many partwork figures do look so nice because rumour has it they are done by some of the leading toy soldier manufacturers).
Going forward I am not aware of too many exciting new toy soldier partworks on the horizon - only Star Wars and Marvel Comic Book Heroes seem to be around at present. However given Del Prado's success there is obviously a UK market and hopefully some of the products released in Continental Europe will find their way here before too long. Romans would do well I am sure although some of the more country specific figure ranges may not. Here's hoping.
I'll update this guide as and when I get more details. I am happy to answer questions if I can and to receive corrections or new information. I can be contacted via eBay messages, user ID is flagbearer101. Thanks for reading the guide and I hope you found it of at least some interest.
I have written 25+ eBay hobby guides several of which are individual listings of the Del Prado and other partwork series. To view the list click here: Drum & Flag eBay Guide List
Footnotes:
April 2008. Del Prado have started issuing their American Civil War figures in the UK.
August 2007. Del Prado have subsequently released a Samurai range (including some of the figures from the Medieval Warriors Collection), Italian Alpini (in Italy at least) and are issuing an American Civil War range - the Blue & the Gray in the US. Lastly a Cavalry Through The Ages collection is just being launched in the UK with a Marlborough era figure the first offering with German WW2, Crimea, Ancient, Colonial and 17C figures amongst those to follow. I think Del Prado are releasing this in 3 stages with new figures first followed by re-released Napoleonic and Medieval figures which you opt out of if you already have these ranges. The booklets once again come from Osprey which is good news. The new figures look to be fairly good but I am not sure that they are in exactly the same style as previous releases.
Tags: Figures and Toy Soldiers
---