Another great Australian Toy Manufacturer was Wyn-Products which made a variety of Toy Trucks and cars.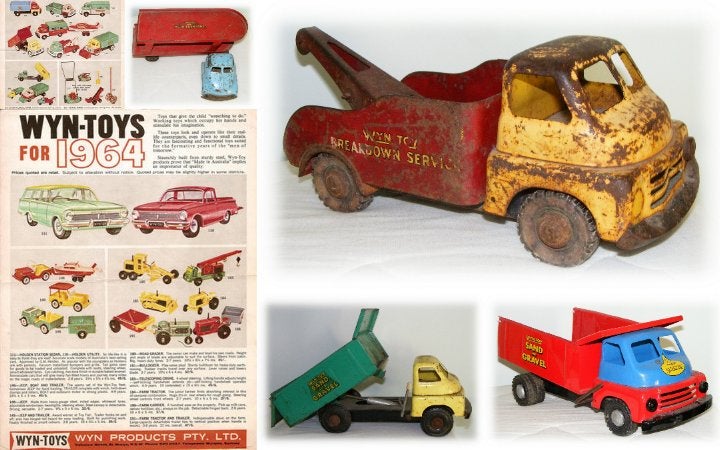 The Wyn- Toy brochure from 1964.
Toys that give the the child "something to do." Working toys which will occupy his hands and stimulate his mind.
These toys look and operate like their real-life counter parts even down to small details.
They are fascinating and functional toys suited for the formative years of the"men of tomorrow."
Staunchly built from sturdy steel, Wyn-Toy products prove that "Made in Australia" implies an imprimatur of quality.
Altough in direct opposition to Boomaroo their products were similar in looks as the image below shows. left is Wyn Toy's
 This Model of the EH Holden ute sold recently 
on Ebay for over $1300.

Wyn-Toy only made toy vehicles where as Boomaroo made toys for Boys and Girls such 
as this rare Boomaroo Washing machine.




At the 1963 Australian toy market Boomaroo announced it was ready
to change their cash register to Australias' new currency.
Boomaroo advertised this product with "lead free paint'
a point that Australian and other manufacturers were making to combat
The Japanese invasion of the Toy market(a future blog in the making)
Footnote: Australia did not change currency until 1966. unsure if the cash register made that change if it did would be a very item.
Tags: Vehicles, Other Stuff
---