Benbros Toys were produced from 1951-1965. Started by Nathan and Jack Benninson
Their toy knight output was limited to just a single figure of a knight in full Armour standing to attention with a spear. cherilea also issue this figure.
Their 1953 Benbros Robin Hood series makes up for their lack of knights it is a nice set of figures featuring a name from England's period of the Crusades and Richard the Lionheart.
Some of the figures are quite rare and can prove to be a collecting challenge.
Robin Hood
Mutch the Millers Son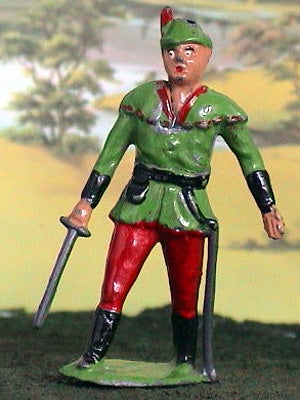 Will Scarlet
Little John
Friar Tuck
Maid Marion
Men at Arms
Sheriff of Nottingham
Bishop of Hereford
The man at arms in the above set is also found in white .
They produced a Roman chariot and charioteer for anyone interested in ancient's
---