Monex Christian A. Lassen KG Berlin metallwerk Neukolln no.103, the Willys Jeep. We saw this before with Wiking - after World War II, the German manufacturers all included American vehicles in their inventory. Which vehicle better than the Jeep could symbolize the USA in the eyes of a client? After the war, it was the perfect car to model, symbolic of the newfound freedom. Dinky Toys France was no exception and the factory at Rue Rebeval, in the 19th Arrondissement of Paris, produced a Jeep in the US Army colors as its first post-war novelty item.
In France, many small manufacturers were also interested in this likeable vehicle. Inca, Polichinelle, MV and other smaller unknown companies tried to introduce Jeep reproductions. It would be interesting to know the reason why, although each manufacturer's first issue was in the colors of the US Army, they all also quickly evolved their line of cars towards one without ties to the US Army. Thus, Polichinelle featured a "France Libre" version as used by General Leclercq and a Tour de France series; Dinky Toys opted for a civilian version, albeit one that kept the star which was engraved on the left side.
For a toy, the version which we are featuring here is an exceedingly faithful reproduction. A rare characteristic in a toy made of injection zinc alloy, the car can be fully disassembled and is accompanied by an instruction booklet. A small pin in the center of the transmission stem keeps the model together. Yet it is surprising not to find in this toy an engine reproduced as finely. While the windshield frame which can be folded down lacks finesse, the overall effect is convincing. The models produced by this company are scarce. On the box package there is a rare mention indicating that the business is located in the "American Sector" (Amerik sektor): the company is of course situated in Berlin. It was more common to see the mention of "US zone". We know of at least two other car models by this manufacturer which we will feature later.
This company is not mentioned in the Paolo Rampini book, which is still a very complete inventory of diecast makers, which shows how rare this toy is! Finally, we are amazed by the manufacturer's choice not to decorate the Jeep in the US Army colors. This surely deprived the business of an important sales opportunity with the GIs stationed near to the factory. But it is possible that for this German company, just as it was for French businesses elsewhere, once the hour of liberation passed, the presence of the allies weighed heavily on everyday life.
Isabelle and Vincent Espinasse. Autojaune.fr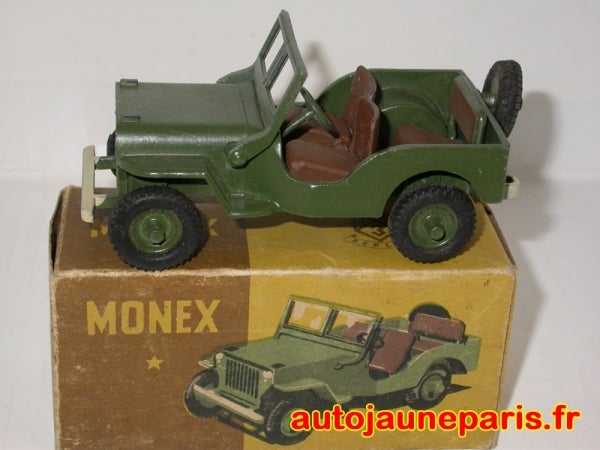 Tags:
---