Many modelers and enthusiasts of European trains know that the Märklin firm started as a manufacturer of lacquered sheet-metal toys in the middle of the 19th century. Toy trains followed, and by 1891, Märklin presented its first systematic approach to model railroading, a windup locomotive with cars, and sectional track. By adding more track, a train setup could be expanded. About 1900, the company had become quite serious about toy trains. On the basis of the products offered by Märklin, gauges and scales 0, I, II and III of that time were adopted on an international basis. Märklin's success grew rapidly, and by 1907, it decided to pursue export markets.
Richard Safft, who joined the firm in 1907, became responsible for the export of Märklin products. As early as 1909, there were no fewer than 17 Märklin dealers in New York who together did 60,000 Reichsmarks (approx. $1.00 = 4.20 RM) of business. This increased to 90,000 RM just one year later. Subsequently, there also were Märklin dealers in many of the major cities in the US.
Gebr. Märklin & Cie quickly realized that, in order to appeal to American customers, typical American locomotives with cowcatchers and extra-large headlights, and appropriate four-axle American freight and passenger cars would have to be available. While there was a good selection of boxcars, tank cars and cabooses, one of the cars that stands out is refrigerator car 2935/0, the Heinz 57 Varieties Tomato Ketchup car. It was built from 1912 to 1914. There were also three different four-axle beer cars. These were the Pabst Blue Ribbon car 2959P/0 from 1907 - 1915, the Schlitz car 2959S/0 from 1907 - 1915 and the Budweiser car 2960/0 fro 1913 - 1915.
Schlitz beer car 2959S was built from 1907 to 1915 - Source: Wertanlage Märklin
The start of World War I in 1914 suddenly interrupted Märklin's growth. The company was cut off from export markets. Many employees were drafted into the military, and the firm was ordered to produce war goods. Not until after the hyperinflation of 1923 had subsided could Märklin once again consider trying to cater to the export market.
Between the wars
In his wonderful book "Mythos Modelleisenbahn," Hatje Cantz reproduced the American business card of Richard Märklin, but the author did not attach a specific date to the card. The card lists the business as Richard Maerklin (note the spelling; perhaps the typesetter did not have Umlauts) Toys, 235 Fourth Avenue at 19th Street, New York, NY. Richard Albert Märklin became his company's North American importing agent in New York, and served in that capacity from 1928 until 1939.
With the American market very much in mind, and starting in 1936 and lasting until 1938, Märklin produced a very handsome 0-gauge replica of a streamlined New York Central 4-6-4 "Hudson" complete with the six-axle tender. The engine was labeled "Commodore Vanderbilt" and the tender was marked "New York Central". The engine was not just for the export market, however. Production of this model ended in 1938. A very limited number of this desirable engine was also done in 1-gauge, but it appears that the larger version was not nearly as attractive. Further, the six-axle tender gave way to a simpler four-axle version.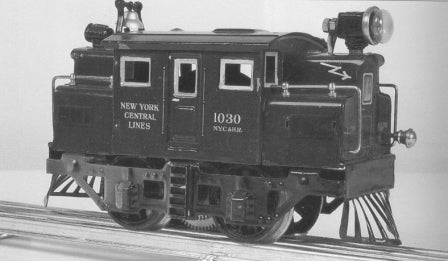 New York central electric locomotive AVR 1030 was built from 1911 to 1914. It operated on full line voltage of about 115 volts - Source: Wertanlage Märklin
As they say on late-night TV commercials, "but that's not all." Again, in the mid to late 1930s, Göppingen also brought out a model of an unstreamlined New York Central "Hudson", complete with an appropriate tender, based on the chassis of their well-established BR 01. Initially intended for the American market, this much sought-after locomotive was also available for special customers in Germany. Suitable six-axle Pullman coaches, including the classic American end-of-train observation deck (2925) open-platform coach favored by campaigning presidential candidates, were offered to accompany the NYC "Hudson." The coaches measured 520 mm (20.5 in.), which is near scale length for the prototype 85 ft length. There also was a slightly shorter version measuring 400 mm (15.7 in.). In either case, such a consist must have been quite a sight.
Jeff Stimson of Märklin, Inc. in New Berlin, WI suggests, "Originally, these and other locomotives were painted and lettered for '¬ ¨the New York Central by the Märklin factory at the request of Richard Märklin, who was the agent for Märklin here in the USA before World War II. Among the others were some models of European electric engines sporting American markings. The concept of prototypical realism was a bit more fluid at that time, and the thought was that the [Kroks] were similar to actual New York Central electrics...." (The NYC electric locomotives operated out of Grand Central Terminal up to Croton-Harmon on the Hudson River, powered via a third rail. This was because New York City had banned the operation of steam locomotives within the city limits. At Croton-Harmon, the third rail ended, and steam engines took over.)
Occasionally, such long-lost treasures surface unexpectedly. In 1997, the late Cor Spreeuwenberg, collector and owner of the Toy-Rail Museum in Oost Voome, about 15 miles from Rotterdam, learned of the existence of the locomotives '¬ ¨and obtained them from someone who was once associated with the late Louis H. Hertz, one of the first authors in this country to ever '¬ ¨write about the hobby of collecting toy trains. Again, Jeff Stimson: "I think that Louis Hertz acquired the locomotives from Richard Märklin shortly before he went back to Germany at the outbreak of World War II."
Reportedly, some 14 Märklin locomotives were involved. These treasures were still packaged in their original boxes, but that in itself was not the most remarkable thing about this find. What was singularly unique was that one of these engines was a beige-colored CCS 66/12920 Crocodile with the markings New York Central Line. So far, the only explanation is that Märklin intended to challenge Lionel on its homeground but the advent of World War Two prevented further exploitation of this potential business opportunity.
According to Joachim Koll, the renowned Märklin 00/H0 expert, there was an American version of the HR 700 steam locomotive. To enhance its appeal to Americans, in 1938, the locomotive featured a cowcatcher. Mr. Koll does not show a photograph but puts its value, if there is such a locomotive, at close to 13,000 Euros (1 Euro = $US 1.40).
In all probability, though, the business was one of the casualties of increasing hostility between the U.S. and Germany in the late 1930s. Further, the economic climate of the 1930s United States was not exactly conducive to the spending of money on model trains, etc. Then, once again, the dark clouds of war came over Europe, and model trains gave way to war production.
From War's End into the 50s
Once Märklin recovered from the ravages of the war, and materials for toys became available again, the company had to find a market that offered convertible currency. That market was right at hand...the U.S. Army occupation forces. According to the 1947 catalog, all but about 10 percent of Märklin's production was for export, namely the American military post exchanges (PXes). This probably held true until the currency reform of 1949, which put the German economy back on its feet. For Märklin, the PXes basically acted as an outpost of the U.S. market in Europe. The next step was penetration into North America proper.
By early 1949, one Charles C. Merzbach in Elmhurst, NY, an outlying neighborhood in the Queens borough of New York City, appears to have become a Märklin importer. Mr. Merzbach, often described as colorful, issued, "The Maerklin Newsletter." This was a well- executed one-page typeset newsletter mailed to what he called Märklin fans. Topics covered in the February (Volume 1, Number 1) issue included "Greetings, Friends; Patience, Dear Readers; Buy of the Month; Want Lower Prices? And Advertising."
Obviously, there's no room to reproduce all of the material in Mr. Merzbach's newsletter, but there must have been a considerable number of Märkliners in America. I quote from his March 1949 newsletter..."During the month of February we received three shipments of catalogs which were mailed out immediately. At this time we owe copies to only about 300 fans. If you are one of these, please be patient for another week or so. Your catalogs are on the way so that by the end of the month you will all be supplied. The number of orders for merchandise really astounded us." This, of course also astounded me when I read it and raised the question, "where have all the Märkliners gone?" Has the number of American Märklinists remained more or less constant since the late 1940s?
To appeal to the occupying Amis (the German nickname for the American GIs), Göppingen offered a series four-axle freight cars that included a gondola (331), a boxcar (332) and tank cars (334E [Esso] and 334S [Shell]) until 1955. Now, these are much sought-after by collectors, with prices not much lower than $700. While there were no American-style locomotives, steam, electric or diesel, for these cars, in 1948 the company did offer the now famous and extremely valuable ST 800. According to the manual "Märklin und Sein Grosses Vorbild" (First Edition), the ST 800 is based on a Rock Island EMD TA diesel and short passenger train, named the "Rock Island Rocket." In 1949, the company offered the DL 800 that was a rather curious electric locomotive based on the General Motors F7 diesels. Basically, it consisted of two A-units coupled back to back and joined by a three-axle Jacobs truck. Each unit was fitted with a pantograph. All axles were powered. This model was built from 1949 until 1957. The ST 800 and DL 800 are among the most valuable Märklin H0 engines. Depending on the specific version, prices, provided they can even be found for sale, can reach in excess of $7,000.
The year 1961 signaled Märklin's move away from the more or less fantasy versions of American motive power. That year was the premier of the company's General Motors F7 diesel in the red war bonnet livery of the Santa Fe Railroad. Cataloged as 3060, the model consisted of two A-units coupled back-to-back. A non-powered B-unit 3060 was also offered. The die was cast, pardon the pun, and the handsome Santa Fe locomotive was also offered in Union Pacific, New Haven and Rio Grande liveries. Building on the success of the F7 diesels, the firm also offered a number of four-axle freight cars, a practice that continues to this day, but I digress.
In an e-mail sent to me by Jeff Stimson, he wrote, "A long-time Märklin dealer has told me that Charlie Merzbach was the first Märklin distributor after the war until about 1954/55. The '¬ ¨distributorship was taken away from him, when the factory's export manager at that time found out on a trip to America that Charlie was also distributing Fleischmann at that time."
"A company named AC Kennel in Connecticut had the distribution for about two years. According to my dealer friend, Reeves International assumed distribution in about 1957. A.B. Boyd in California did distribution work on the West Coast starting about 1957."
It is not known when the colorful Mr. Merzbach disappeared from the Märklin and Fleischmann scenes but a Google Search does reveal that there still is a Charles C. Merzbach Company in New York City. It is a privately held company, but my search for a telephone number has not proven successful.
Who would have thought that there would ever be an American locomotive on the cover of a Märklin H0 catalog? Yes, indeed, there was. It happened in the case of the 1961/62 catalog. There it was: the classic Santa Fe F7 diesel (M 3060), resplendent in its red war bonnet colors. Jumping ahead in time, there was a General Motors EMD F7 diesel on the cover of the 1990/91 catalog.
From The 70s to the Present
Ah, the power of the Internet. In my quest to sort out the many bits and pieces that make up the story of Märklin in America, I posted "Information Wanted" notices on the Märklin B&G bulletin board at Yahoogroups. Fred Gates, president of Märklin, Inc., must have read or heard of my request, and without further ado, here's what he sent me and is permitting me to quote.
"In the 1970s Märklin had two agents in the U.S., one was Reeves International (Pequannock, NJ) and the other was A. B. Boyd Models (Costa Mesa, CA). [Editor's note - the Western states comprised California, Oregon, Washington, Idaho, Nevada, Arizona, New Mexico, Utah, Colorado, Wyoming, and Montana].
"In 1980 Märklin GmbH established Märklin of America as a holding company and Märklin, Inc. as a subsidiary company of Märklin of America. In 1990 Märklin, Inc. merged into Märklin of America and Märklin of America changed its name to Märklin, Inc. Märklin, Inc. is a 100% owned subsidiary of the German parent company, Gebr. Märklin & Cie. GmbH.
"In 1980, Märklin, Inc. entered into an exclusive distribution agreement with the Walthers Company. Under this arrangement, Märklin, Inc. owned the inventory in the Walthers warehouse, and Märklin, Inc. set pricing and dealer selling conditions. Walthers was responsible for picking, packing and shipping the merchandise to the authorized Märklin, Inc. dealers in the U.S. Walthers was also responsible for invoicing the Märklin Inc. dealers and provided administrative services on a contractual basis. Märklin, Inc. leased office space for its staff in the Walthers building, and Bruce Walthers was a member of the board of directors of Märklin, Inc. When the distribution agreement ended in 1985, Bruce Walthers stepped down from the board of directors of Märklin, Inc.
"At no time did the Walthers Company have any ownership position in either Märklin of America or Märklin, Inc. It is also important to understand that Märklin Inc. was the exclusive importer of Märklin products in the United States[. T]he Walthers Company was appointed as an exclusive distributor of these products and performed the logistic and invoicing functions. This is a point that many dealers and consumers do not understand.
"In 1985 the distribution agreement with Walthers ended and Märklin, Inc. opened its own office and warehouse in New Berlin, WI. Märklin, Inc. then assumed complete distribution responsibility for all Märklin products. Märklin, Inc. established the Märklin Club of North America in 1985 and set up the Märklin.com and Trixtrains.com websites in the 1990s."
The Present and Future
An indication of the seriousness and commercial importance of the American market, Märklin went all out in the late 1990 to develop a model of the Union Pacific "Big Boy." Rumored for some years already, most Märkliners probably were stunned when the model arrived in 2001. Talk about a commitment to the American market. As if that was not enough, Göppingen also unveiled a New York Central "Mikado" and a few years later that American classic, the Pennsylvania Raymond Loewy designed GG-1 electric locomotive. Now it is 2007, and we can wonder what will the future bring where Märklin in America is concerned. It is, of course, anyone's guess. As for me, I won't even venture a wild guess.
Sources
Without the generous help offered by Fred Gates and Jeff Stimson of Märklin, Inc., this article would not have been possible. I am also very grateful for the assistance provided by Thomas Mossbeck of the NMRA/Kalmbach Memorial Library. Further thanks are due Blaine Bachman, Thomas Catherall, Märklin USA; Roland Gaugele, Märklin Germany; John McVeigh; Jacques Vuye.
"Mythos Modelleisenbahn," Hatje Cantz, Hatje Cantz Verlag, 2003, ISBN 3-7757-9183-3.
"Koll's Preiskatalog," Verlag Joachim Koll, Bad Homburg, Germany, 2002, ISBN 3-922164-96x.
"Märklin - zur Kaiserzeit, bis 1908," No 2, 1904 - 1908, Carlernst Baecker, Dieter Haas, Claude Jeanmaire.
"Wertanlage Märklin", J. Koll and R. Schiffmann, Augustus Verlag, 1996; ISBN 3-8034-0361-7.
Märklin catalog D 50, issued in 1950.

Acme Locomotive Works

Website.
Tags: Tinplate Trains, Trains
---