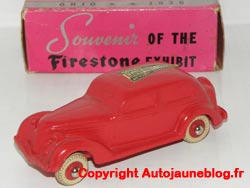 The Ford Berline (sedan) '35 Firestone, reference FA03. About 5-in long; wooden wheel rims painted red; tires with white studs; bearing the brand name "Firestone", a single piece rubber injection model.
From 1930, Firestone and Goodyear vied in a publicity competition through distribution of items bearing their brand name. This competition lasted in automotive circles through the 1970's. Our model was distributed to promote the Great Lakes exhibition in Cleveland, Ohio, June 27 through October 4, 1936. Firestone took the opportunity to promote its products through ties with the organizers of the exhibition, most likely through a financial partnership. This toy is made by the "Rubber Company".
For the event, the toy was produced with at least 3 very different decals, which is a considerable effort! It is particularly interesting to note the Firestone inscription on the tires, an innovative idea. This model was produced in yellow and in blue (featured in the book by Dave Leopard) but one cannot exclude the possibility that there may have been other production colors. This model and its concept were re-used as promotional efforts for the San Diego Fair, the California Pacific International Fair and the State Fair of Texas in Dallas. This model is difficult to find in good condition.
Isabelle and Vincent Espinasse. Autojaune.fr


Tags:
---