In autumn 2008, a range of French Dinky Toys replicas, made of diecast and manufactured in China, was introduced by the publishing house Editions Atlas, under the name of "Dinky Toys de mon enfance" ("Dinky Toys from my childhood"). By August 2009, 12 models have been released in this range.
Editions Atlas is based in Lausanne, Switzerland, but distributes partworks for collectors in various European markets, especially in France. The Dinky Toys reproductions are only available by direct subscription in France and other French-speaking countries.
The first model, a Citroën DS (Nr. 24cp), is sold at a discount price of €2,99: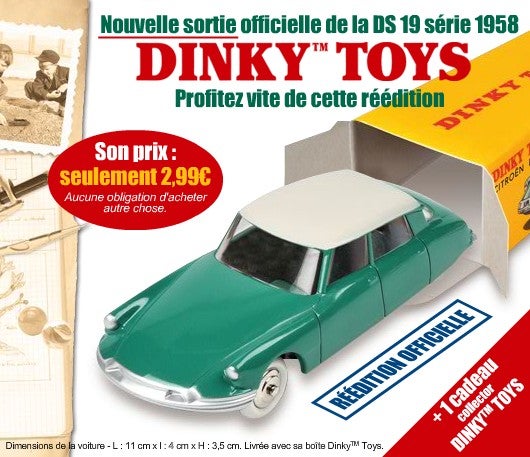 If you order the second model, the 1961 Citroën 2 CV (Nr. 558), you can keep the DS for free. The 2 CV comes with some "gifts", replicas of the city traffic sign set (Nr. 40) and the Esso filling station (Nr. 49d), and a reproduction of the 1954 French Dinky Toys Catalogue, for €13,30. All following models are sold at a regular price of €27,40 each incl. postage (CHF 38.70 in Switzerland). Each model is delivered with a Dinky-style box, an information sheet and a certificate of authenticity, stating that it is an official reedition. However, the models are rather replicas than reeditions, since they are made from new moulds, and some details slightly differ from the original Dinky Toys. And of course, the baseplate is altered, instead of "Made in France - Meccano" it says "Made in China - Editions ATLAS (c) Mattel", since Mattel is having the rights to use the Dinky name. According to the boxes, the models are imported to France by Norev, so several famous names of the model car industry are involved with this range...
You can see all releases on the website http://www.aquitaine33.com/atlas/dinky/index.htm. But the models sent to the subscribers are not always identical to the ones pictured in the advertising brochures and on that website. Apparently, Editions Atlas made photos of prototypes or even of original Dinky Toys. You can also check French collectors' forums to see the differences between originals and reproductions (e.g. http://www.forum-auto.com/automobile-pratique/modelisme-modeles-reduits/sujet4227.htm).
Several aspects are intensely discussed in the French forums: the quality of the reproduction (too approximate?), the finish of the models, the price (too high regarding the fact that much better detailed current Chinese-made model cars by Minichamps, Ixo and others are not much more expensive?), or the way of distribution (no possibility to order only particular models directly from Atlas). On the other hand, the reproductions are of course much cheaper than a mint and boxed original Dinky Toy...
It's up to you to decide what to think about this range of replicas. Here are the pictures of some models released so far:
Nr. 24cp: Citroën DS (originally released in 1958)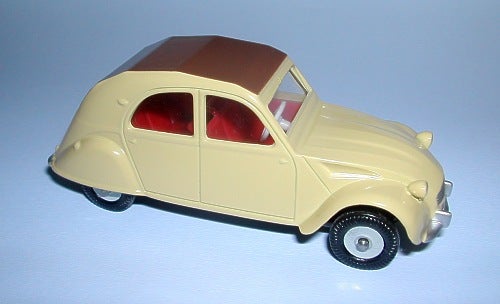 Nr. 558: Citroën 2 CV (1962)
Nr. 547: Panhard PL 17 (1960)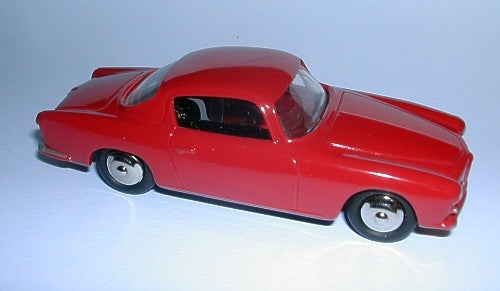 Nr. 24j: Alfa Romeo 1900 Super Sprint (1957)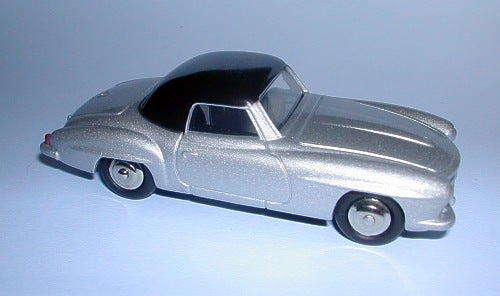 Nr. 526: Mercedes 190 SL (1958)
Nr. 24b: Peugeot 403 (1955)
The following models have also been released in the range so far, check the links mentioned above for pictures:
Nr. 24k: Simca Chambord (red/cream)
Nr. 24v: Buick Roadmaster (orange/black)
Nr. 24e: Renault Dauphine (white)
Nr. 25cg: Citroën HY van "Gervais" (cream)
Nr. 24n: Citroën 11 CV (black)
Nr. 24y: Studebaker Commander (red/cream)
---